Incendio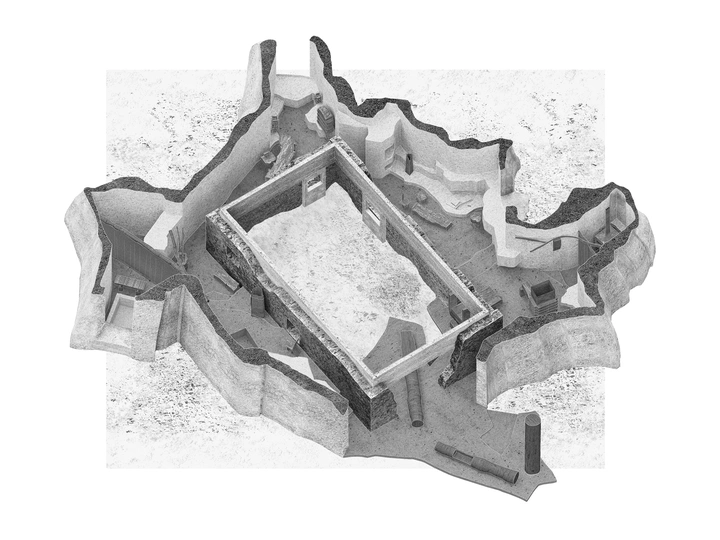 Architecture for the rehabilitation of post-wildfire habitats
---
Meseguer studio + RawRaw
Madrid, Spain
Links
Team members
Elena Beltrán
Jesús Meseguer
Field of work
Architecture, Design, Landscape architecture, Ecology, Research
Project category
Material tracking and reuse
Project submitted
2023
Jesús Meseguer (Meseguer studio) is a Spanish architect based in Madrid. His work operates between design and research to develop critical environmental practices and new ecological materials. Amongst other projects, he has developed "The Waste Archive", a collection of devices that reinterpret traditional objects through debris reuse. His work has been published in different media and exhibited in ARCO Madrid Art fair, Melbourne Designers Week, Venice, Glasgow and Fukushima.
Elena Beltran (RawRaw) is a Spanish architect and 3D artist based in Madrid. She specialized in digital software by studying two masters in architectonic visualization and virtual reality. She collaborates with different offices to create the imagery for projects linked to social housing, public space and public infrastructure. As part of her practice, she is keen on researching on photorealism and ways to mediate and communicate using digital images. Her work has been published in different media and she won the CG Architects award for best render image in 2020.
As a team Jesus and Elena have worked on a series of architecture projects linked to ecology. They are interested in the hidden stories inscribed in materials and how they can help us unfold unknown realities linked to the Anthropocene. To do so, they work on the development of digital imagery and speculative narratives as mean to engage a wider public into climatic issues.
---
In the heat of the fire, forests burn and ecosystems are lost. In a state of climate emergency, heat waves and increased droughts modify wildfire regimes. In this context, Spain has become a paradigm. It is the third country in the EU with largest forest area but also one of the most heavily impacted by global warming. Since 1970, around 628.000 wildfires have destroyed a total of 8 million hectares. Therefore, the development of post-fire strategies has become a pressing issue to guarantee ecological renewal.
What happens with burned wood after a wildfire? Extractivism is the most common line of action. However, by removing this layer, the landscape's structure is modified, as areas are left devoid of biomass and erosion is accentuated, which ultimately prevents regeneration. Accordingly, new strategies are being implemented. By keeping burned wood in the healing ecosystem we create a biological stratum that enhances natural recovery, providing nutrients and fostering mutualistic interactions between species. By learning from this approach, we could propose experimental architectures that participate in biological restoration.
Incendio operates in this context. After a wildfire, the project rehabilitates a burned down Masia, a traditional architectural typology in forested areas in Spain. The strategy is to surround its ruins with a cremated-wood stratum to reconstruct two habitats. It mediates between restoring a domestic interior and its surrounding landscape. As so, the new layer becomes an organic deposit where multispecies can grow and therefore contribute to enhance biodiversity. Furthermore, the inner void of the preexisting stone wall delimits a courtyard, which expands the regeneration surface of the project. The interstice between walls is colonized by neo-primitive furniture pieces made of discharged burned wood. A new way to inhabit emerges. Thus, a more-than-human architecture could enable the protection and recovery of our ecosystems.