Architecture of the Outside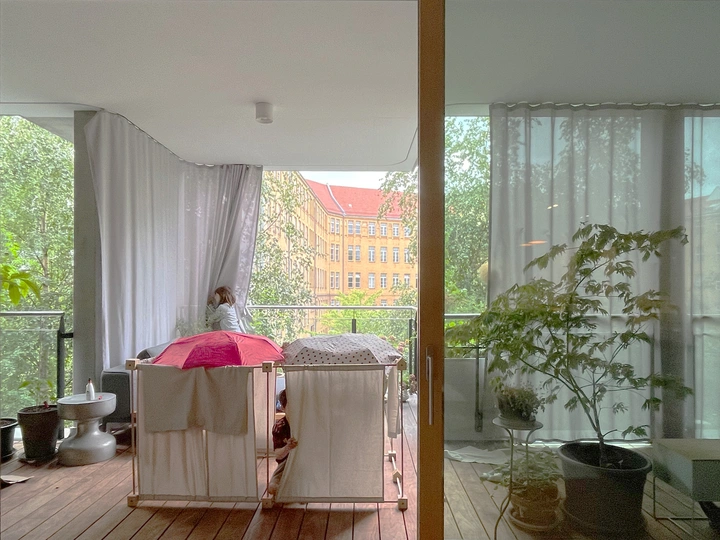 We develop new typologies of enhanced outdoor spaces that embrace their environment and allow us to recallibrate our relationship to the natural world
---
Menassa Külby
Berlin, Germany
Links
Team members
David Külby
Cindy Menassa-Külby
Field of work
Architecture, Urban planning, Ecology, Photography, Research
Project category
Raising awareness
Project submitted
2023
Cindy Menassa-Külby and David Külby are two architects who practice in Berlin, Germany as part of Külby Architekten. Cindy is a member of the Beirut Order of Architects, David is part of the Berlin Chamber of Architects.
Both used to teach design courses at the Lebanese American University (LAU) between 2010 and 2014 and keep on critically reviewing their own practical work until today. Within the German context, they discovered that the balcony structure actually bears the biggest potential to explore the power of Architecture: Thermally separated from the insulating building envelope and relatively spared from other regulations, it gives a lot of freedom to design. Surprisingly, while nobody denies the intrinsic general quality of outdoor spaces, there is very little debate about their particular qualities. Cindy and David intent to change this and thrive to develop new typologies for living around exterior spaces.
Cindy studied Archtitecture at Portland State University in Oregon and completed her Master degree at the Southern California Institute of Architectre (SCI-Arc) in Los Angeles as one of the best selected thesis works. In 2012, she became Assistand Professor at the Department of Architecture at LAU. She recently published an article about the challenges of rebuilding the port of Beirut after the 2020 explosion.
David studied Architecture at the Technical University Berlin and completed his Master degree at SCI-Arc in Los Angeles. He taught and practiced architecture in Lebanon from 2010 until 2014. He completed his first built project in Berlin in 2018 and has developed an interest in the legal expression of architectural regulations ever since.
---
60% of the world population reside in cities today where we have, over the centuries, distanced ourselves from the natural world: Cities are artificial environments, isolating us from nature. Paved roads cover the ground, plants grow, if at all, at designated areas, leaving no space for natural elements to thrive. Wildlife is absent. In rare moments when it occurs against the odds, it is seen as a threat – to our wellbeing as much as to the control that we believe we must have as part of our human condition.
This creates a sense of opposition, as if it were 'us versus nature', neglecting nature's needs (space, resources, an intact environment) and its profound benefits to humanity beyond our basic requirements. To rectify this relationship, we must embrace a mindset of coexistence. We need to allow nature to become an integral part of our daily lives, rather than sheltering ourselves in structures that fully control our environment.
This is a spatial challenge. In our design of the relationship between inside and outside, the outdoor spaces (often, if at all, present as an attached balcony) must be a priority. We like to highlight two projects in our practical work that developed spaces for an enhanced outside experience. On a small scale, they accommodate day-to-day functions in exterior conditions. On a larger (urban) scale, the building's façades blur the boundary between building and context.
One project features a spatial layer between interior spaces and the outside, providing immediate exposure to the exterior. The other, a small modular house, challenges our idea of internal circulation, the landscape floating in-between the modules. Both projects immerse inhabitants in rain, sounds, light, heat, flora, fauna, and the wind, creating a rich atmosphere unknown to indoor spaces.
We seek to expand on these ideas in future projects and to document the behavior of inhabitants of existing projects. We aim to develop new typologies that embrace their environment