Memorial to the Deportation of Jews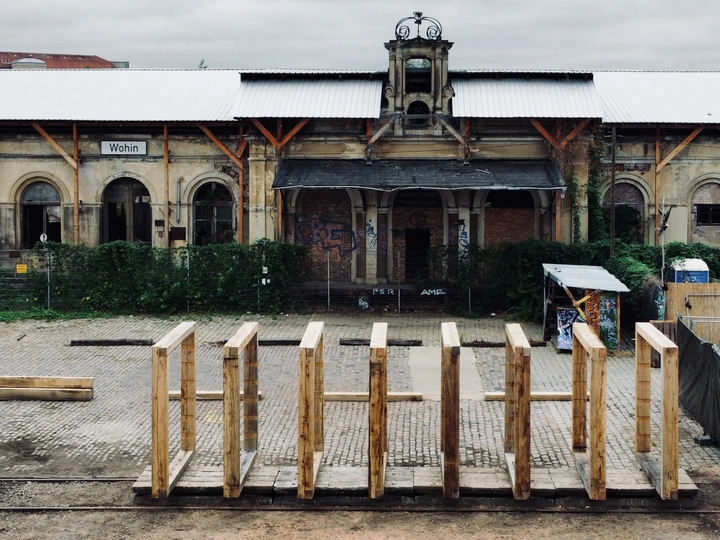 What kind of space does contemporary commemoration need?
---
Institute for Spatial Resilience
Dresden, Germany
Links
Team members
Lucas Klinkenbusch
Julia Krafft
Annika Schwippl
Christian Zammit
Field of work
Architecture, Urban planning, Research
Project category
Raising awareness
Project submitted
2022
Architecture and city planning are inherently involved in the shaping of our society. In the classic linear design process, from commissioning to execution, there is little room for adaptation to the ever-changing challenges of our societies. Founded by Christian Zammit, Lucas Klinkenbusch and Julia Krafft, the Institute for Spacial Resilience aims to overturn this traditional method through interaction between architects, users, society and politics.
---
What kind of space does contemporary commemoration need? Against the background of this question, we have conceived, designed and constructed the commemorative installation, which is meant to function as a catalyst.
The design is based on the transformation and abstraction of railway sleepers into a spatial installation. It is reminiscent of a historic freight wagon of the Reichsbahn and consists entirely of concrete sleepers salvaged and reconditioned on site for the foundation and leftovers of sorted wooden sleepers for the frame construction. This approach avoids the use of new resources and meets the highest standards of circularity. At the same time, the sleepers have a historical reference to the deportations by the Nazi regime. It is also an experiment to redefine, or perhaps better understand how our society can use spatial installations to commemorate such horrible moments.
The installation can be dismantled without destruction and can be transported and reused elsewhere. The current state does not represent the final condition of the memorial site but is instead to be understood as the beginning of a process of change that will be publicly and openly discussed. It is the first of a three-part concept, but also the first of a series of steps in the public participative process.
Recesses cut into the wooden frames allow for the insertion of boards made of recycled slate, which can be supplemented with questions, comments and criticism from the public. The installation is a first step towards the construction of a more permanent memorial to the deportation of Jewish people from the city of Dresden and will change over time. With this innovative approach, the requirements for a contemporary memorial can be formulated more and more precisely step by step.