Late to the party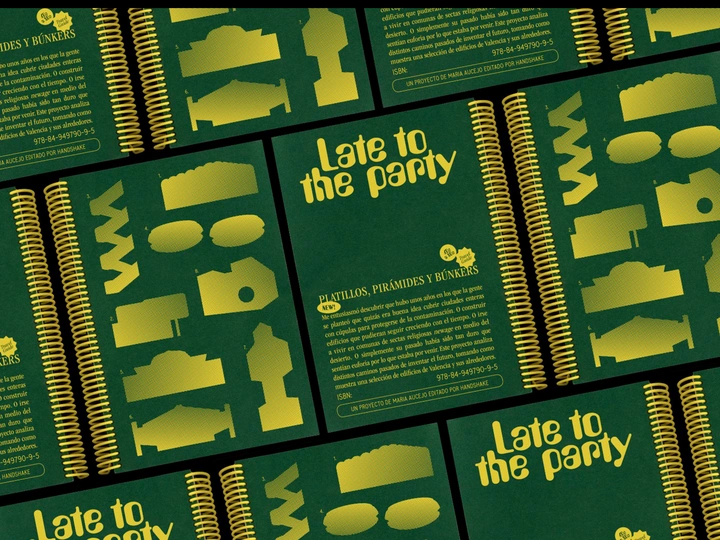 An on-going research project about the projection of futures and collective imaginaries focused on architecture of the second half of the 20th century
---
Maria Aucejo
Barcelona, Spain
Links
Team members
Maria Aucejo
Field of work
Architecture, Design, Curating, Communication, Research
Project category
Raising awareness
Project submitted
2023
Maria Aucejo's work is characterized by the fluidity of the creative process according to the needs of each project, the study of the context and the inherited landscape. She studied at the Technische Universiteit Eindhoven in the Netherlands and at the Escola Tècnica Superior d'Arquitectura in València. After going through different architecture offices, in 2018 she founded her own studio between Barcelona and Valencia.
Her practice reconciles built projects with theoretical research and curatorship, such as the project Rotondes i Taronges at the EACC-Espai d'Art Contemporani de Castelló.
In 2020 she published the research project Late to the party: saucers, pyramids and bunkers, awarded with the ArtsLibris BCN 2021 Prize and AJAC XIII, Catalonia's Association of Young Architects. Due to this project she was invited to teach the First Year Lecture at the Architectural Association of London in 2021 as well as to lecture at MAca, Architectural Communication Masters at Universidad Politécnica de Madrid.
---
How can research can help us to learn from our past in order to design our future? How architecture can contribute to create collective imaginaries? How the built environment can support or destroy collective narratives that shape our societies?
Who or what are responsible for the stories we tell ourselves about places? Would tourism be the same without the fictional layers we add to places?
Let's dig into the representation of our recent past (and the leading role of architecture in all of that) to learn about what ideas have we assumed as our own in our present and how we are reproducing them for our future, and the consequences of that. The main goal is to foster critical thinking, to discover the layers that make up the places where we live and the stories that we have been told with the aim of making architecture accessible to all types of audiences and raising awareness about its impact on our lives.
Late to the party is an on-going research project that had it's first publication in 2020. Focused in postmodern and retro-futuristic industrial architecture found on Valencia's city surroundings. 8 buildings are documented as examples of 8 different possible futures that were never fully accomplished.
Late to the party's title refers to the generational feeling of being late for the good times, the sense of having lost the chance to live a more optimistic era.
The developed methodology fuses imaginary from pop culture, film, music, photography and writing with the discovery of an architectural heritage that was crying out for someone to put it in value.
The project plays at mixing past, present and possible futures using archive images, architectural plans, current state photographs and visual references that could have nothing to do with the buildings. Late to the party has multiple layers and loose ends that each reader, depending on their interest, can pull.