The Energy Community Garden (ECG)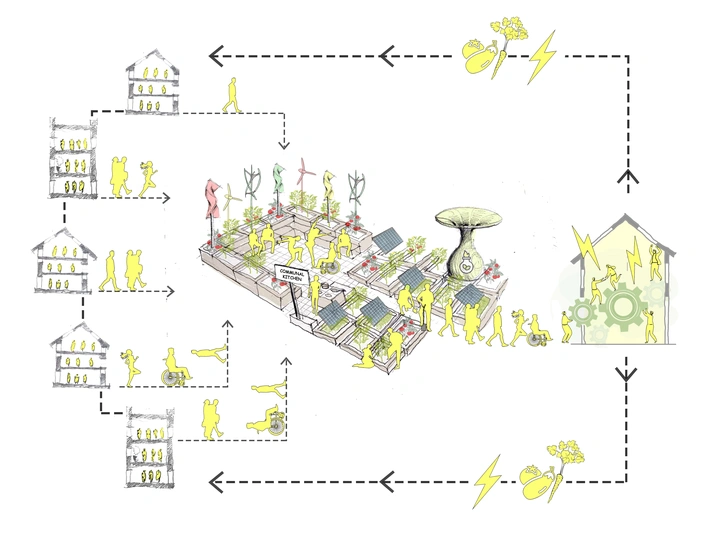 The ECG is a social enterprise that grows food and produces renewable energy owned and managed by the communities that need it most.
---
Loay Dieck
The team is international, so collaboration was virtual. Loay and Killian are in Cork, Ireland
Links
Team members
Riley Chan
Loay Dieck
Soifa Paredes Estrada
Chien-Hua Huang
Gustavo Lopez Mendoza
Killian O'Neill
Field of work
Architecture, Urban planning, Landscape architecture, Visual Art, Research
Project category
Energy
Project submitted
2023
I am an emerging Palestinian architect, academic, and artist who aspires climate justice and social equality. I hold an M.Sc. in Architecture, Urbanism and Climate Action from UCD, Ireland. Also, I am an emerging visual artist who uses free-hand and digital sketching to portray ideas of freedom and justice.
I worked in Palestine for 3 years in practice and academia. I was involved in architecture and urban design projects that focused on community engagement. Also, I was a junior lecturer and teaching assistant at Al-Quds University and Dar Alkalima University. Currently, I work in Ireland as a graduate architect in an engineering company called Arup.
Through my academic, professional, and life experience, I have been exploring the relationship between the built environment, nature, politics, economics, and sociology. Such experience has helped me recognise the detrimental impact of our exploitive economic system on human rights and our ecosystem. At the same time, such understanding led me, through my research study, to approach eco-socialism, an ideology that aims to restore our symbiotic relationship with the ecosystem. It relies on the power of the community and prioritises the welfare of the ecosystem and the community it thrives in over capitalism and imperialism.
In my architecture practice, I mainly focused on such an ideology. I worked with the UN-Habitat on urban design projects that embraced community engagement in Palestine and strived to create inclusive public spaces. Also, I participated in and won design competitions centred around imaginary futures and social justice. Such projects involved reimagining the future of the destroyed villages of Palestine and transforming infill lands into liveable spaces for people in need. Nevertheless, the work that I am mostly proud of is the Energy Community Garden (ECG), an eco-socialist enterprise that I will be presenting in my application.
---
My proposal is a social enterprise called the 'Energy Community Garden (ECG)'. It aims to create community gardens that are equipped with small-scale windmills, biofuel plants, and solar panels. In general, The ECG promotes community-based climate action. It works with people to co-create and co-manage community gardens and empower community ownership of food and energy resources in city neighbourhoods, villages, and towns worldwide.
The ECG could ripple across communities. If several gardens were implemented within an area, they can be connected through a micro electric grid managed by a local cooperative, and the excess energy can be sold to invest in community projects. Also, the cooperatives can manage food exchange through weekly markets.
In general, the proposed initiative aims to link social justice with climate action worldwide. It restores our collective relationship with each other and the entire ecosystem through its cooperative approach. It resists top-down climate action strategies that caused climate injustice such as land grabbing and provides local jobs in communities, especially those that are dependent on the fossil fuel industry.
The ECG has developed through individual work and collaborations with different parties. I have been working on the project for almost a year through individual desk research, discussions with local communities involved in community gardens, and consultation from specialised organisations, such as TASC Ireland. Recently, my current employer, Arup funded me with time to work with a multidisciplinary team of architects and engineers within the company for two weeks to develop the project. Together, we designed a prototype for the ECG, calculated the energy produced from a proposed ECG layout, and studied the feasibility and viability of the project.