Soil-Knowledge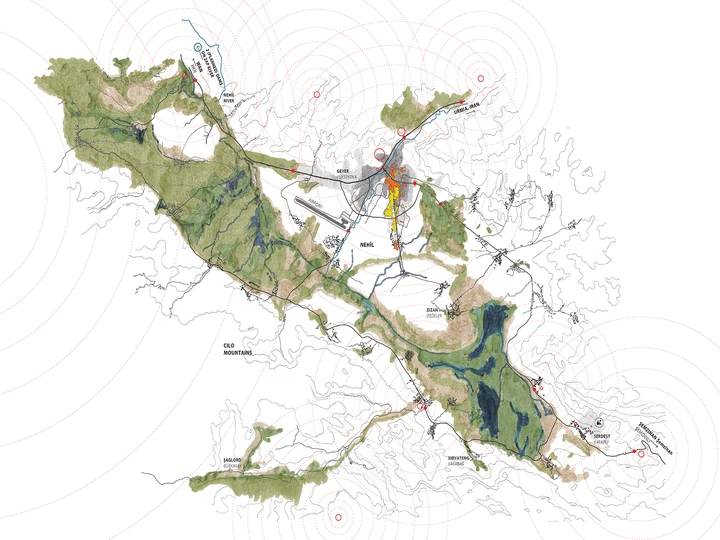 Learning from the relationship between vernacular Kurdish earthen buildings and the socio-ecologies of the wetlands of the Nehîl
---
EJ Williams
Berlin, Germany
Links
Team members
EJ Williams
Field of work
Architecture, Ecology, Research
Project category
Rural spaces
Project submitted
2023
EJ Williams is a practising architect and researcher based in Berlin, interested in new imaginings for spaces of solidarity. Williams' architectural practice has focused on housing, in particular collective housing (Mietshäuser Syndikat) and on healthcare buildings in various forms. As an architect, Williams takes a keen interest in the execution and construction management phases, connecting planning with making. Williams has collaborated on cultural, educational, sustainable energy and participation-led projects of differing sizes, complexities, and construction methods, including GDR-prefab and rammed earth, realised in France, Germany, Morocco and the UK. Williams has worked widely in formal academic and artistic spaces, as invited architectural critic with Professor Finn Geipel at the TU Berlin, and Professor Arno Brandlhuber at the Academy of Fine Arts Nuremburg and as participant in numerous exhibitions, including the Venice Biennale for Architecture 2012 with Roberta Burghardt. Williams has also contributed to developing experimental approaches to collaboration, most recently co-creative directing the symposium, Hermitage Gathering: working on the viability of creative and collaborative practices in nonmetropolitan areas, hosted by Onassis AiR, Athens, 2022. In 2019, Williams travelled to south-eastern Türkiye to research the earthern flat roof vernacular. In 2022-2023 this investigation has formed the basis for working on the concept of Soil-Knowledge with the Zozan Archive Project at the Institute for Social Anthropology, Vienna.
---
In the Autumn of 2019, I set out to investigate the vernacular earthen flat roof construction of the Northern Kurdish region, in what is known as Türkiye. On arrival, it became clear that an architectural investigation cannot be separated from the socio-ecological, and that there is a deeper meaning to soil, and our interaction with it. By sharing knowledge and experiences with people living in and around the Nehîl, I used mappings and drawings to listen to living memories of ways of life, building practices, farming practices, stories of vegetation, animal life, the surrounding areas, trade, mythologies and cultural practices.
The Nehîl is a wetland surrounded by high mountain ranges in the Hakkari region. It borders two nation-states and has always been crossed by many trade routes between East and West, and where people have been displaced many times over the last hundreds of years. In recent years the intensive increase in militarisation and the drainage of the wetlands to create an airport, has meant people and animals are living around things that are blocked off, disconnected, and collective livelihoods, embodied-knowledges and soil-knowledge are becoming lost.
As a practicing architect I see an urgent and compelling need for the Western-European canon of architectural history, narratives and practices, to consider and engage with our role in climate change and displacing people. The pursuit of growth damages the planet, and the ecology, as well as causing social divisions. By using tools and methodologies such as mapping, to listen to and to share knowledge and experiences, we can reveal what has been and is missing, hidden and left-out, and how these vernacular earthen building typologies were once and still are intrinsically and importantly integrated with intelligent, complex socio-ecologies.
Fellow