An entombed church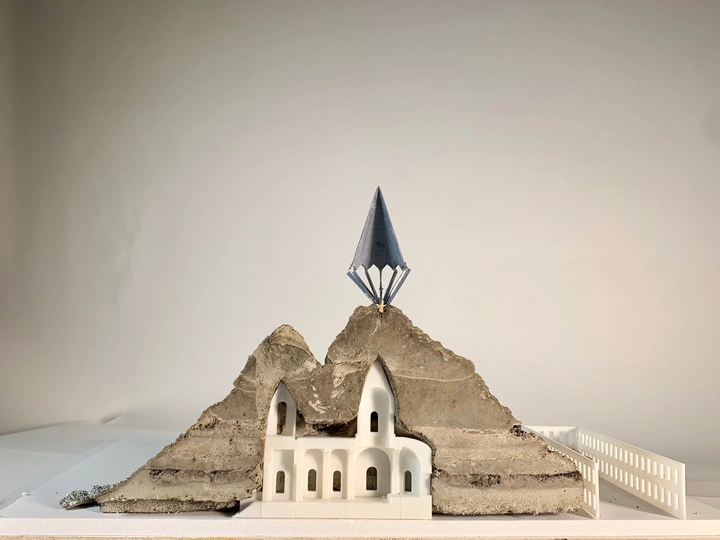 A critical response to the (lack of) preservation of culture in the disputed territory of Nagorno Karabakh
---
Shant Charoian
Yerevan, Armenia
Links
Team members
Shant Charoian
Field of work
Architecture, Design, Urban planning, Landscape architecture, Research
Project category
Raising awareness
Project submitted
2023
I am a designer and researcher living in Yerevan, Armenia. I completed a post-professional Master of Architecture from Harvard Graduate School of Design in 2023. I received a Bachelor's in Architecture, Cum Laude, from California State Polytechnic University, Pomona, where I received the Outstanding Senior Project prize and the Paul Helme Award. Between my two degrees, I worked in Los Angeles at Escher Gunewardena. I have led numerous workshops at TUMO Center in Yerevan that have culminated in exhibitions and products. My work has been published in "Utzonia: To/From Denmark with Love", and exhibited at GSD Kirkland Gallery.
For me, design research must go beyond new construction and involve critical thinking on how ecology, politics, and human rights have shaped architecture, landscapes, and spaces, utilizing my agency as a designer to bring forward new forms of activism. In Fall 2020, as I virtually began my degree at the GSD, war broke out in Nagorno Karabakh, targeting Armenians mere miles from my home. Suddenly, my country was at war, and mobilization began in response to the reawakening of the unresolved conflict of Nagorno Karabakh. This shifted my perspective of my role as a designer, allowing me to seek different platforms to mobilize my skillset to study the different layers and spatialization of the conflict.
Hence, my time at the GSD has revolved around dissecting the conflict from different lenses. I taught a Harvard J-term session in the Winter of 2021 titled "Territorial Disputes in the Caucasus," visualizing the history of the conflict between Armenia and Azerbaijan. I was also selected as a Graduate Student Associate at the Harvard Davis Center for Eurasian Studies to expand my reach. Recently, my essay about cultural genocide in Nagorno Karabakh was selected for a conference in Prague named "Heritages: Past and Present, Built and Social," where I presented my paper in June 2023, which will also be peer-reviewed and published in March 2024.
---
An entombed church addresses two issues—one about expressing a national victory and the other about preserving culture. Set in Nagorno Karabakh, a disputed territory between Armenia and Azerbaijan. This project aims to protect Kanach Zham, an Armenian church in Shushi, highlighting the cultural genocide Armenian heritage faces in Azerbaijan.
The project was born out of a dark time for all Armenians, as I thought about the objects left behind at risk of cultural genocide. Armenian cultural heritage has been seen as a threat to countries like Turkey and Azerbaijan, where Armenian nativity is visible, hence the lack of preservation efforts.
With the constant back and forth of reigning the land, heritage is continuously being violated, and the ownership of who owns the land is visible physically in Shushi (for Armenians) / Shusha (for Azerbaijanis), where the church is located. My project sits within this realm. The temporal quality and the lack of stability made me question what could happen. Could the church become a victory park instead? Building on the cruel victory park in Baku, Kanach Zham can be the next site of cultural genocide. By utilizing the war debris, Kanach Zham becomes a buried church under a new victory park terrain.
The mummification process of the church starts by using gabions full of war debris to protect the church from the mountain that is to come. The rest of the rubble is poured over the structure, creating a mountain. It is a trojan horse of an existing church, masking itself as a space of celebration for Azerbaijanis while it protects the church. The mountain's terrain echoes the silhouette of the church. It is a mountain with two tips. Over time, the destruction will become a green space, similar to examples like Tuefelsberg in Berlin and Robert Smithson's Partially Buried Woodshed. Now more than ever, the spotlight this project will receive is crucial, as it sheds light on the complexities of territory in the post-Soviet landscape.