(De)Growing the Rural Village of the Future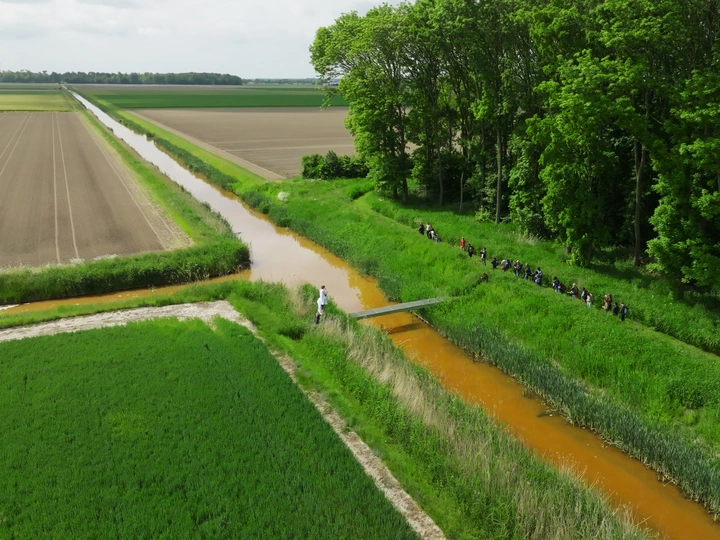 Using a research by design approach, we explore biobased building typologies at the transition of polder and village by interweaving these landscapes
---
Dérive
Nagele, the Netherlands
Links
Team members
Margot De Caster
Lucien Schmidt-Berteau
Hedwig van der Linden
Kevin Westerveld
Field of work
Architecture, Urban planning, Landscape architecture, Ecology, Research
Project category
Rural spaces
Project submitted
2023
Dérive is a research-driven practice operating between architecture, public space and urban strategies. A collaboration founded by Hedwig van der Linden and Kevin Westerveld with the motivation to provide air within complex transition challenges. We explore the act of walking and fieldwork to create narrative concepts needed to bridge the gap between imagination and implementation. We seek synergy between conceptual thinking and cocreative practice. We create space for dialogue and make connections by (co)creating local coalitions already during the research and design process. In doing so, we start from the qualities and resources of existing habitats.
---
In this project we explore how to grow a future proof rural village by focusing on biobased building typologies. We work on the realistic case of the housing extension plan for Nagele: a modernistic and rural village in the Noordoostpolder - considered as one of the most fertile soils in the Netherlands. This residential function conflicts with the current agriculture on the land. Our goal is to connect the challenges of village (sustainable residential extension) and polder (sustainable food production).
As in the rest of the Netherlands, there is a need for more housing in Nagele. The village community requested a substantial residential extension of a few hundred homes on the adjacent plot: the transition from village to polder. Built in the 1950s, Nagele has a special design process and appearance. The village is an icon of the 'makeable' society: with the innovative building culture of 'Das Neue Bauen' (modern architecture) and its location on land reclaimed from the sea. The village was designed by the Dutch designers' collectives De 8 and Opbouw, modernist architect associations that included Aldo van Eyck and Gerrit Rietveld. At the time, they designed this model village of the future based on the principles of 'Das Neue Bauen' in which "light, air and space" are central.
From the Young Innovators Program (NL) we were given the opportunity to work on the ambitions for the extension through which we want to develop 'Das Neue Bauen' of the 21st century. The building industry is responsible for a large part of CO2 emissions causing environmental crises. The switch to biobased building is needed. Since these challenges are global, we plead for collectives to develop a new spatial culture 2.0 – as in the 1950s, but this time with a diversity of cultural and disciplinary backgrounds and based on the social implications for existing habitats. We are eager to explore this research by design on biobased building typologies with an international community.
Fellow