F.I.D. (Football as Infrustructure of Democracy)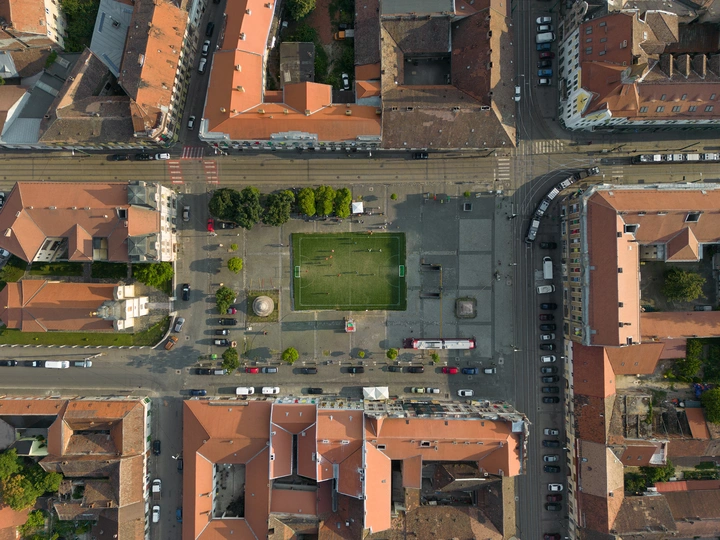 F.I.D. lies between the physical boundaries of a participatory architectural installation and the fair play rules of sport meetings.
---
Atelier VRAC
Bucharest, Romania.
Links
Team members
Cristi Badescu
Gabi Boldiș
Laura Borotea
Alex Ciobotă
Zenaida Florea
Bogdan Isopescu
Olimpia Onci-Isopescu
Field of work
Architecture, Design
Project category
Public space
Project submitted
2023
Atelier VRAC, a creative design collective rooted in Bucharest, was established in 2023 by Zenaida Elena Florea and Cristi Badescu. Having both graduated from the Ion Mincu University of Architecture in 2019 they have since embarked on diverse trajectories, independently contributing to a broad spectrum of projects spanning various typologies and scales.
Zenaida Florea is a phD candidate and teaching assistant at the Ion Mincu University of Architecture at the second and third year design studio. Her academic journey is interlaced with practical experiences, including internships in Nanjing and Istanbul. After graduating she has been involved in a varied range of architecture programs, from large scale projects and design competitions to intimate, small-scale initiatives like exhibitions and project designs. Cristi Badescu mirrors Zenaida's academic pursuits as a Ph.D. candidate and teaching assistant, primarily focusing on the first-year design studio. Upon his graduation, Cristi became part of the POSTER architecture office based in Bucharest. Together they were the curators of the 2021 Romanian Pavilion at the Venice Biennale with the project Fading Borders (www.fadingborders.eu) which addressed the issue of Romanians working abroad.Additionally, Cristi is a founding member of the Hipodrom Brăila project, a initiative which explores a 1960s modernist neighborhood in Romania, tracing its origins and understanding its contemporary challenges through research and urban interventions.
Together, Zenaida and Cristi bring to Atelier VRAC their shared passion for the intersection of civic initiatives, architectural education, and private commissions. They approach each project as a unique platform for research and exploration. The moniker VRAC, translating to 'in bulk' in English, symbolizes their methodology - the storing and transporting of raw ideas in the form of 'granules' or 'pieces', stacked together in an unsorted pile.
---
"Football as Infrastructure of Democracy" is a participatory architectural installation in the form of a mini-football field seen as a socio-cultural interaction platform.
The project takes inspiration from a cherished tradition of amateur football matches in the Fabric district of Timisoara, originating in 1936. This friendly rivalry between teams dubbed the "Married" and the "Unmarried" served as more than a game; it was a community event transcending scores and statistics. Thus, all that was recorded in these years were the pride and emotions of conviviality, which helped to transform the neighborhood into a living place, full of memories and meanings.
F.I.D. is binded by football - a "horizontal sport" that promotes concepts such as the team and the collective, that levels social relations between different people and classes, both among players and spectators. Football is uniquely poised to facilitate social interactions across diverse demographics, both among players and spectators. It serves as a societal microcosm, featuring its own unique language and methodology, while also promoting values such as respect, fraternity, pluralism, and cultural and racial diversity. In such a framework, F.I.D. is a training space for civic values, and participation as an amateur or professional strengthens the feeling of belonging to a community.
In practice, F.I.D. was actualized in Traian Square via a micro football championship involving 16 local teams. Concurrently, the installation and football pitch stimulated other community events, such as film screenings, impromptu football matches, children's play areas, and spontaneous bike parking. It also became a venue for video sets and stimulating discussions.
F.I.D.'s inception resulted from a competition for ideas for Traian Square in Timisoara, launched by BETA 2022. Due to the meaningful impact it had on the Traian Square and the community, t the initiative proudly celebrated its second edition this year.