Difficult Conversations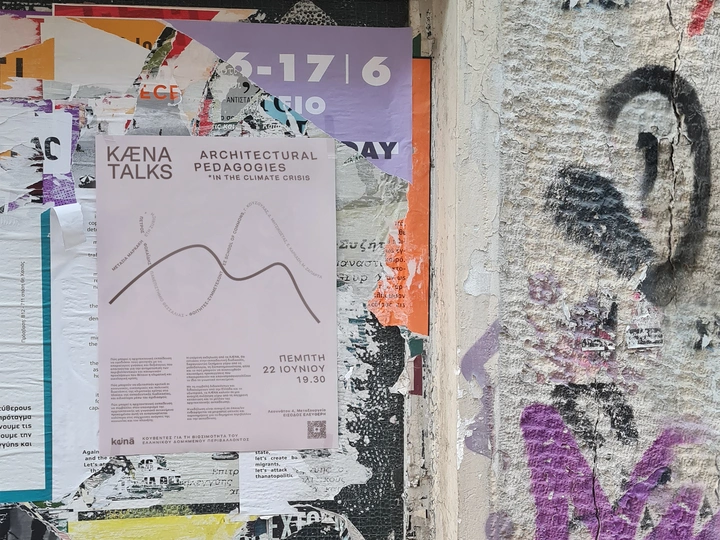 An accessible and inclusive public programme that makes space for difficult conversations around the sustainability of the built environment.
---
Links
Team members
Mariza Daouti
Anastasia Lekkou
Natasa Lekkou
Eftychios Savvidis
Field of work
Architecture, Curating, Communication, Research
Project category
Raising awareness
Project submitted
2023
KÆNA [kεnä] is a collective practice that foregrounds the social and ethical role of architecture, and advocates for responsible and inclusive notions of practice in the context of the climate and ecological emergencies. We understand sustainability beyond metrics, but as a way of thinking and acting, exploring its environmental, social, political, economic and ethical implications. We seek to facilitate a framework that fosters research, knowledge exchange and dissemination, and connections that generate opportunities for synergies. We aim to build and strengthen a network who share common values and aims. Our skills lie within architecture, urbanism, research, teaching and communication. We work towards developing a cultural practice channelled through various forms, such as design, writing, curating, publishing and public engagement.
KÆNA are Mariza Daouti, Natasa Lekkou & Eftychios Savvidis.
Mariza has worked as an architect in London, Barcelona and Nicosia, as an editor and researcher for online platforms of architecture, and as a lecturer in the UK. Her research interests revolve around the intersection of environmental and urban transformations of territory, with a particular focus on socio-ecological landscapes of vulnerability.
Natasa is an architect based in Athens and Madrid, member of Zuloark Collective, a distributed office for architecture and urbanism, and co-creator of LEONNATOU cultural space in Athens. She has lectured at MACA Master (ETSAM) and her research focuses on informal pedagogies and the social involvements of architecture in the era of environmental crisis.
Eftychios is an architect and educator based between Athens and London. He has worked in architectural practices & taught architecture design studios in Athens, Nicosia and London. He is interested in investigating how the pressing context of the climate emergency can critically re-examine and re-negotiate established notions of monumentality, heritage and preservation.
---
Despite living through the consequences of irreversible anthropogenic damage to the earth's ecosystem, and while social and spatial injustices grow, the discipline of architecture has been slow to confront the complex and unsettling topic of the climate crisis. Responding to the prevailing architectural discourse in Greece, where the intersections of architecture and the environmental crisis were hardly discussed, KÆNA initiated its public programme in 2021 in order to take action to address the climate and ecological emergencies within the architectural community.
The public programme intervenes in the discourse in order to provide space, time and a framework for 'Difficult Conversations' about the diverse and interconnected aspects of sustainability of the built environment, as well as its modes of production and renewal. At the core of the programme are participatory processes that aim to engage with, but also empower the architectural community to become agents of meaningful change in the current moment of rupture and uncertainty. The public programme is structured around three strands that serve as distinct, but overlapping forms of cultivating dialogue and critical thinking:

KÆNA SESSIONS are multidisciplinary focus groups which facilitate the exchange of personal views, questions and concerns around sustainability between professionals of the built environment.

KÆNA TALKS is a series of public talks and open discussions that tackle topics such as material reuse, architectural pedagogy, making traditions and collectives of care. Their aim is to share knowledge and methodologies by foregrounding individuals, collectives and initiatives whose practice or research is defined by sustainable values.

READING ROOM is a series of weekly meetings involving readings and informal conversations around critical texts that consider how climate intersects with architectural thinking and practice.