Rural Embodiment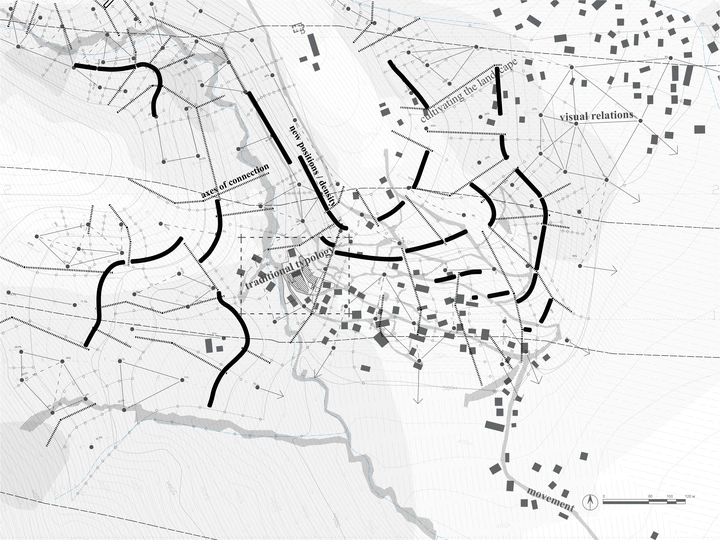 A framework for new models of density that arise from singularities of the periphery of the city
---
k87a__
Skopje, North Macedonia
Links
Team members
Maksim Naumovski
Miroslav Pejovski
Pavel Veljanoski
Field of work
Architecture, Urban planning, Research, Other
Project category
Rural spaces
Project submitted
2023
k87a__ is an architecture practice based in Skopje, MK, established in 2022.
The studio combines practice with intense academic activity, intertwining various scales and research tools in expending fields of architectural discourse.
---
We observe the landscape of the village of Cucer as a recontextualized example on the periphery of the city of Skopje through its poetic qualities, events, social and architectural forms as a substantial peculiarities of the place.
The research was initiated through field observation, applying two approaches:
• Working on site as a necessary step in perceiving the sensations and singularities of the place and
• Graphically inscribing the administrative, natural and built resources in a synthesized operative maps.
Through the movement, we promote a narrative, sequential images of the picturesque landscape in which the human-placed elements (house, path, bridge, etc.) are experienced as expressive traces and, as Deleuze and Guattari emphasize, simultaneously change our perception of that same landscape. In this way, the knowledge of the space gained through this research is not dealing with the compositional elements but with the imagination of man who experiences those elements as an experiential space.
Building up on this research, specific methodologies were examined in order to find reference procedures in the cultivation of such landscapes, tackling the following:
• Geometric order - as a unity of form and place structured by man, assuming the new density of the village, by applying a method developed by the architect Didier Boutreaud in the early 70s that largely demonstrates the visual relations of physical structures in the landscape;
• Traditional typology - the house which is causally related to the local climatic factors and has the potential to be promoted as a built prototype networked with the environment in relation to spatial and natural resources and, above all, its potential for adaptation and re-use.
By integrating architecture, nature, and movement into one ensemble, we are proposing a framework that does not set an ultimate goal but it promotes an open system that offers unexpected directions regarding our relationship with the landscape.