A Fear of Grey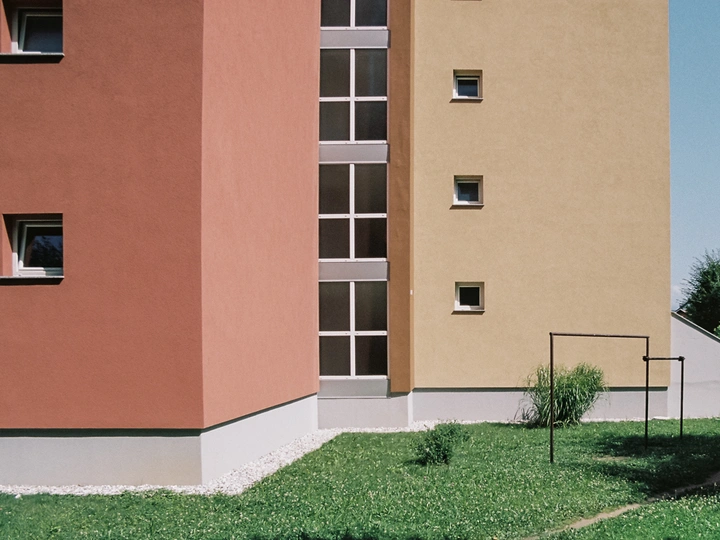 An exploration of colour in Slovenian architecture up to the present day; from DIY renovation to official vulgarity.
---
Peter Žargi
Ljubljana, Slovenia
Links
Team members
Peter Žargi
Field of work
Film, Photography, Research
Project category
Urbanity
Project submitted
2023
Peter Žargi is a photographer, film critic, and composer living in Ljubljana. His main focus is architectural photography, mostly via his online project KRAJ, the largest online visual archive of Slovenian post-WWII modernist architecture.
The goal of Kraj has been to document architecture via photography, but also to point out the deficiencies of current Slovenian architectural canon and open debates on evaluation of architecture. Another aim of the project is the de-fetishization of modernist, particularly socialist-era architecture and move the observing eye from the monumental to the common, hidden in plain sight.
The project has eventually evolved into sub-sections, one of which - A Fear of Grey - was also showcased as a part of an exhibition Spaces of perseverance, organised by MAO - The Museum of Architecture and Deisgn, together with Extended Gallery in 2022.
In relation to his work on KRAJ, he has also collaborated with Piranesi and Outsider magazines, and the Museum of Architecture and Design, while as a film critic, he has participated as a lecturer or jury member at LIFFE, Tresk and Fekk festivals, the Festival of Slovenian Film, at Slovenska Kinoteka, Kino Otok and Radio Student.
---
A sub-project of my original exploration of Slovenian post-WWII architecture, A Fear of Grey takes a look a the roles of colour in architecture and, consequently, public/urban space.
I see A Fear of Grey evolving by extending beyond photography into film, interviews and other types of research, with the aim of showcasing as many aspects of the importance of colour (in renovation and new construction) and the delicate questions it raises with its (under-researched or/and under-estimated) affect on the urban landscape.
The project, for now, exists mostly as a digital observation of various trends, but I see it evolving into a more thoroughly researched and curated multi-disciplinary set of events that could be propagated through various media, printed or digital, installations, exhibitions or round tables.
Although A Fear of Grey can easily be seen as aesthetic in its nature, the aim is exactly the opposite: to present social implications of aesthetical randomness and wantonness -- the possibility of colour to create better or worse environments in inevitably expanding cities.