THE REAL DEAL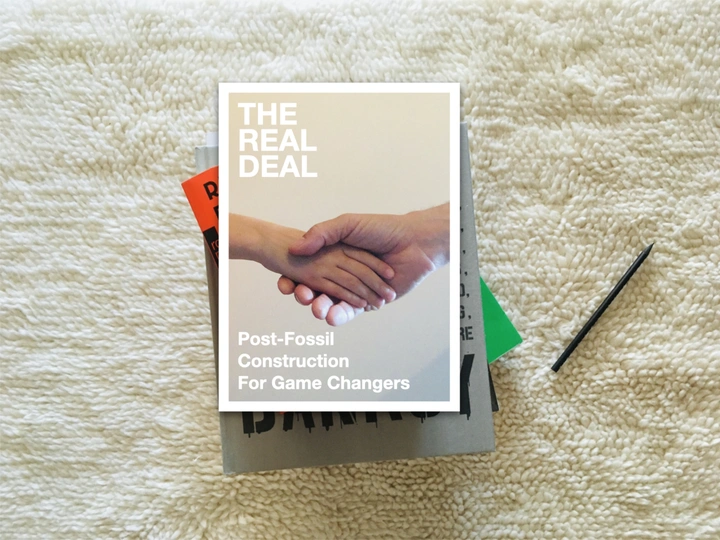 Post-Fossil Construction for Game Changers
---
Fabian Hoermann
Zurich, Switzerland
Links
Team members
Dr. Evrard Arnaud
Ruby Ilka
Field of work
Architecture, Ecology, Communication
Project category
Raising awareness
Project submitted
2022
This book idea was born during the CAS regenerative materials at ETHZ. As associate and architect leading the design department at EM2N for many years it became crystal clear that we need to onboard the decisionmakers from construction and real estate sector and in politics to the 'Bauwende' to be part of the solution for climate-emergency. Together we realised EM2N's "both — and" monograph and the exhibition "Together! — The new architecture of the collective." Last book: "She, the President."
---
With 40% of the world's CO2 emissions and 80% of the waste in Switzerland, the construction and real estate sector has huge potential to make a relevant contribution to reversing climate emergency and aswell to discover new business opportunities in the context of digitalization. In order to activate this leverage, the decision makers of building culture (clients, developers, investors, marketers, financiers, politicians) must be onboarded for this turnaround.
For quick comprehension, a focused book of approx. 100 pages conveys the most important aspects of the various players during realisation and their specific points of view with additional easy-to-understand graphics, thus providing important impulses.
Ten photographs of projects that have been realized with regenerative construction methods serve as visual reference to loosen up the flow of reading:
After three short wake-up calls (forewords), short texts (Part A) sketch the global perspective of socially, economically, and ecologically changing societies and the industry (from bankers to anthropologists). Through interviews (Part B) experiences of market players (from developers to earthen builders) are passed on. Finally experts (building physicist to civil engineer) disprove the top ten prejudices against regenerative construction (Part C). The epilogue affirms: The mind is our limit.
In order to reach the above-mentioned target group directly and also as a whole, audio/video formats are also planned for distribution, communication and campaigning.
With these selected stories of success of jointly realised quality of building culture in a new scale decisionmakers will rethink their new project, their department or their business in the meeting next day. We believe that we can remove barriers in minds, in regulations, and in practice with striking examples!