Education everywhere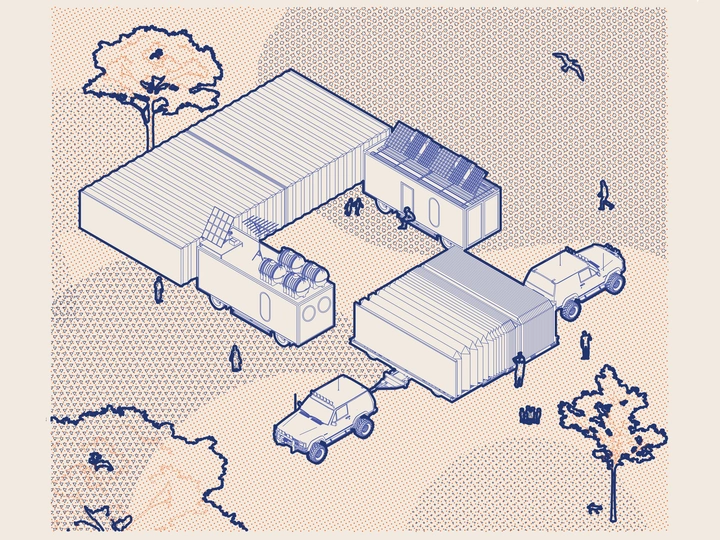 Mobility and transformability can be used in educational crises and emergencies to provide knowledge which is the pillar of society.
---
Links
Team members
Sanja Avramoska
Brankica Dogazanska Peshanski
Adelina Fejza
Valbona Fejza
Irena Lazarev
Field of work
Architecture, Urban planning, Research
Project category
Sustainable mobility
Project submitted
2022
Puzzle is a collective of young and enthusiastic architects established in 2018. As a team, we have worked on a wide spectrum of projects including exhibitions, interior design, architectural projects, conceptual projects, research, etc. and successfully participated in many international competitions and workshops.
Throughout our work, we try to have a research-oriented approach thus creating more sustainable, outspoken, and creative solutions for all architectural challenges.
---
"No thief, however skillful, can rob one of knowledge, and that is why knowledge is the best and safest treasure to acquire." – L. Frank Baum
People affected by conflict and other humanitarian crises say education is one of their top priorities, and for children, it is their top priority. Education provides physical and psychosocial protection that can save and sustain lives. Education should be available to everyone.
In a crisis state of emergency, everything should be easily assembled, disassembled, and transformed.
Emergency means feasibility. A practical design should be simple and focused.
"Education everywhere" is a design for a mobile school consisting of six trailers that can be transformed into a more complex educational facility. Four of the trailers are designed as fold-construction tents which can be opened up to become two classrooms, a library, and a computer room. The classrooms can also be joined and used as one room, as well as a dormitory space during the night. The tents are easily assembled using the force of the vehicles. The other two trailers consist of toilets, a small kitchen, and a back office room which also can be used as storage when the school is being transported.
This kind of design offers a very flexible spatial composition that can be used in a variety of situations.
Fellow
Related events