Waiting for (243491) Mühlviertel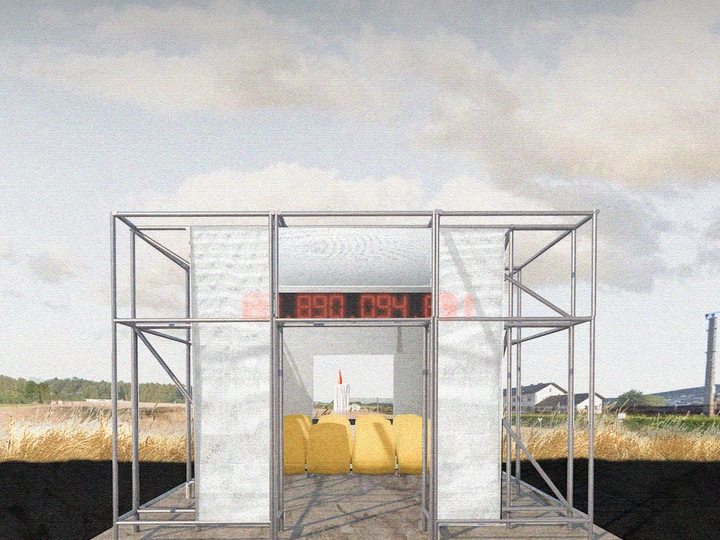 A cosmic journey awaits at Freistadt spaceport. Embrace the wait, ponder our planet's future, and explore the universe.
---
Links
Team members
Moritz Batz
Laura Farmwald
Field of work
Architecture, Visual Art, Multimedia, Film, Photography
Project category
Raising awareness
Project submitted
2023
The collective NTST arises from the friction between art, architecture and life, with a wink and a rub of the eyes. They desire to create and procure, initiate and allure. A special interest lies on questioning the status quo and further examining whether it is still up to date. Borrowing from the existing and translating from one "language" to another brings underlying structures to light.
The collective formed during an intervention at Wien Musuem continuing through their studies at TU Vienna leading to their own spatial and artistic pratice.
Laura Farmwald M.Sc. Architecture:
Born 1993 in Dachau, studied architecture at the University of Art and Industrial Design and and TU Wien.
2023 – Exhibition Foto Wien, "/imagine a photo of me counting my fingers so I know I'm not dreaming"
2020 – Sudden Workshop, Most Likely&Visual Cultures, TU Vienna, Biennale Venice
2018 – Installation Sweet Dreams, Technisches Museum, Vienna
2018 – Installation Timeless, Poolbar Festival
2017 – Installation, Best Off, Linz
2017 – Exhibition Learning von Gänserndorf, Architekturforum OÖ
2015 – Ebensee Rising, Festival der Regionen
2015 – European Street Design Challenge, Paris
Moritz Batz B.A.:
Born 1991 in Cologne, studied architecture at MSA Münster and is currently studying architecture az TU Vienna
2022 – Group Exhibition, Schloss Drosendorf, Upper Austria
2021 – Lecture, Gnomonics Week, Attp TU Wien
2021 – Exhibition, Sculptural Processes, Galerie Sehsaal, Wien
2019 – Intervention, Center for Literature, Burg Hülshoff, Havixbeck
---
The Freistadt spaceport offers visitors the chance to see the asteroid (243491) Mühlviertel, discovered on October 20, 2009, by amateur astronomer David Voglsam. Named after his hometown, it orbits the sun at an average distance of 133,890,094,691 km, between Jupiter and Mars. On 20.06.2023, it will be 502,648,846 km away from Earth, one of its farthest points.
13 years after the discovery of the asteroid, the journey to space is finally approaching, but visitors must endure a seemingly eternal countdown and wait for the launch, fleeing from a slowly overheating and inhabitable planet. Inspired by Samuel Beckett's 'Waiting for Godot,' the project 'Waiting for (243491) Mühlviertel' asks visitors to let go of everyday stress and embrace the stress of waiting for rescue. It serves as a metaphor for examining responsibility for our planet and the future of mobility. In the guise of Beckett's work, where the protagonists keep on waiting for Godot instead of taking matters into their own hands, one might suspect a similar refusal of responsibility.
The installation, located at the Freistadt train station during the "Festival der Regionen" in Upper Austria, offers a pavilion-like structure for visitors. They are immersed in the absurdity of the situation, experiencing the constant countdown announcements as they wait for the rocket launch, which is "only 448,678,372,649 km from Earth."
'Waiting for (243491) Mühlviertel' is not just an audience experience but an interactive one, where visitors become part of the installation. It acts as a meeting point, viewing platform, and stage, allowing contemplation of the truthfulness and meaning of waiting.