SOLAR GRILL – cooking with the sun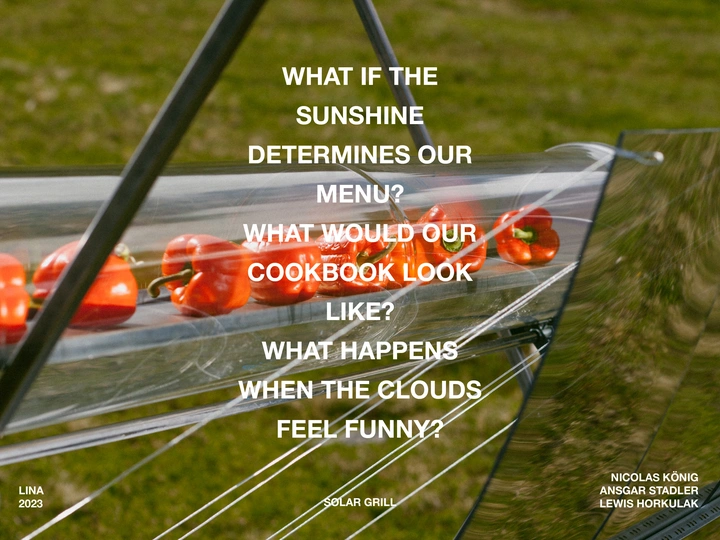 This is neither a weird microwave; nor a treacherous stove doing what it wants. We are cooking with the big oven, 149 million kilometers away from us.
---
Ansgar Stadler, Lewis Horkulak, Nicolas König
Berlin, Germany / Zurich, Switzerland
Links
Team members
Lewis Horkulak
Nicolas König
Ansgar Stadler
Field of work
Architecture, Design, Landscape architecture, Engineering, Research
Project category
Food system
Project submitted
2023
We – Ansgar, Nicolas and Lewis – want to pursue our common interest in the relationship and potential interdependences between nature and technology. In times of apparent chaos, our joint work is characterized by an interest in environmentally-based narratives by means of physical fragments, digital simulations and photographies to stimulate interdisciplinary thinking and actions.
From our perspective, architecting is understood as imagining structures in the built environment which are in harmony with the landscape and take their drive from regenerative resources. Through research- and design-driven work, the relationship between the built and the unbuilt is constantly re-established.
During our recently finished diploma in architecture at ETH Zurich we have built up a strong friendship with weekly visits at the sauna. The heat – a comfortable climate within the sauna – prompted us to discuss both heat-related issues and potential. A dichotomy which should not be neglected.
Lewis Horkulak (MSc. ETH Zurich, *1996 in Berlin, DE) studied architecture at TU Berlin, Bauhaus Weimar and ETH Zurich. In addition to his job experience in architectural offices like Studio Muoto (Paris), he has contributed to several publications such as "BUK KONSTRUKTION" at ETHZ.
Ansgar Stadler (MSc. ETH Zurich, *1995 in Karlsruhe, DE) studied architecture at TU Munich, National University of Singapore and ETH Zurich and worked in offices like David Chipperfield (Berlin) . Besides his studies, he works as a student assistant at the chair of Alexandre Theriot.
Nicolas König (MSc. ETH Zurich, *1994 in Aachen, DE) studied architecture at the Berlin University of the Arts, the Royal Academy of Arts, Copenhagen and ETH Zurich. After work experience in offices like Office KGDVS (Brussels) he is currently working as a student assistant with Anne Holtrop and Günther Vogt.
---
What if the sunshine determines our menu? What would our cookbook look like? What happens if the clouds feel funny? The sun – the ominous, distant nuclear reactor – produced our food with its flattering rays. Now it also can help us to cook our meals. (Though, 8 minutes delayed. But it doesn't matter.)
Minimizing the use of non-generative resources is not only an issue in remote areas far from super abundances which urban areas offer. Still, the location of our residency at Furka Zone at an altitude of 2429 meters above sea level, more than 500 meter above the tree line, was the starting point of a cooking device powered by the sun.
Through 'active cooking' the "Solar Grill" challenges common consumption and cooking habits which rely on constantly available energy sources and are independent of natural rhythms. Instead, there is no gas, no charcoal, no wood or no fire required. Just the sun.
The chefs using the solar device have to constantly study the environment, the sun path and the climatic conditions. As planet Earth is constantly moving, a steady re-adjustment of the BBQ device is necessary to keep the meal in the concentrated ray. Though, depending on the time of the day, it's a slow or extremely fast process. It's about living with the natural cycle far away from the conveniences and comforts that our familiar life is offering in a hyper excess. Nevertheless, like a ceremony of the sun dance, it's a social practice of preparing and celebrating food together. It's a counter movement to the microwave.