ADAPT/pavilion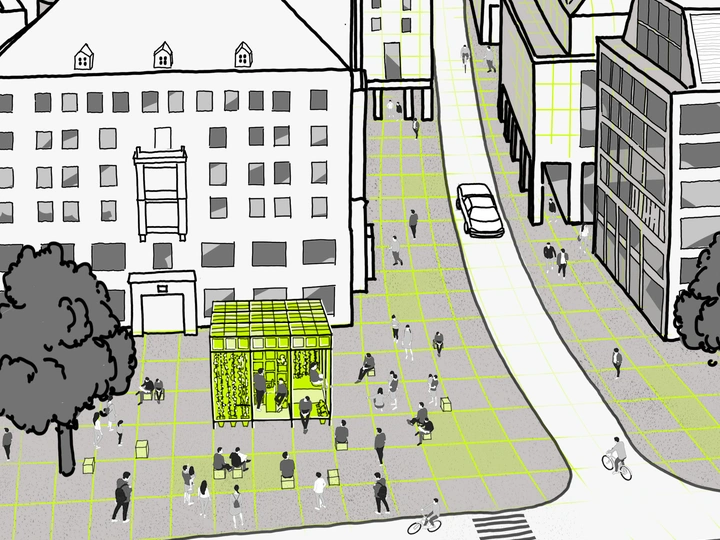 Shaping the Future of Architecture by Transforming Urban Areas into Flexible Habitats and Redefining Urban Health for a Climate-Proof Tomorrow.
---
ZIRKULAAR
Dresden / Berlin, Germany
Links
Team members
Lucas Klinkenbusch
Julia Krafft
Field of work
Architecture, Ecology, Communication
Project category
Raising awareness
Project submitted
2023
Who we are:
We have sacrificed our illustrious academic careers and devoted ourselves entirely to societal relevant redefinition of architecture. Our background and experience in international research projects provide us with a unique tool at our disposal. We see ZIRKULAAR as an innovative collective between an architectural office and a political initiative.
Why we do it:
We bring architectural ambition into sustainable construction. Our future-oriented architecture follows an innovative design approach from concept to implementation. We view the multitude of criteria and requirements for resource conservation as an opportunity that we meet with creativity and inventiveness.
What we do:
We design concepts to minimize material usage, effort, and spatial requirements. We consider climate adaptation as a major challenge of our time, whether it involves revitalizing urban areas or transitioning to energy-efficient construction methods. For each project, we find high-quality, individual, and resource-efficient solutions. Our team provides advice with a broad expertise, even in ongoing processes.
---
Each architectural epoch has its maxim. An architecture of ADAPTATION will shape the future. But how does the classical, stationary habitat transform into an adaptive, flexible spatial offering? ZIRKULAAR develops the ADAPT/pavilion - a versatile spatial structure in response to the climatic crisis of our time.
The ADAPT/pavilion is to be understood as a multifunctional structure, constantly adjustable and transformable. It reacts to existing buildings and spaces in our cities. The ADAPT/pavilion creates a sheltered space and generates a climatic, social, and emotional sanctuary. Our design methodology consist of the following logic:
ADAPT to zero emission:
How can we minimize material usage by reevaluating every construction step, down to the smallest detail? How can we enable highly flexible usability and modular composability of the components? And most importantly, how can we incorporate the use of circular materials into the entire production cycle?
ADAPT to break down the problem for everyone to understand:
How can we convey the complex aspects of the climatic crisis in an understandable manner for everyone? The buildings we use are one of the biggest factors in climate change. Therefore, the transition in construction concerns us all equally.
ADAPT to a better urban health:
Noise, dust, heat, and stress are just a few of the issues in our urban areas. How can we reconfigure public space? What spatial offerings are needed to create a livable city? The challenge lies in creating a high-quality, breathable, and healthy biosphere for all people within the existing urban context.
This summer the first micro-beta test phase of the ADAPT/pavilion will be constructed and tested in Dresden. Will it work? We will bring our fresh insights directly from the testing field to the LINA Conference in Copenhagen. How can we collectively adapt our cities to climate change? Together with the LINA Community, we aim to discuss and envision.