Building, Unbuilding, Rebuilding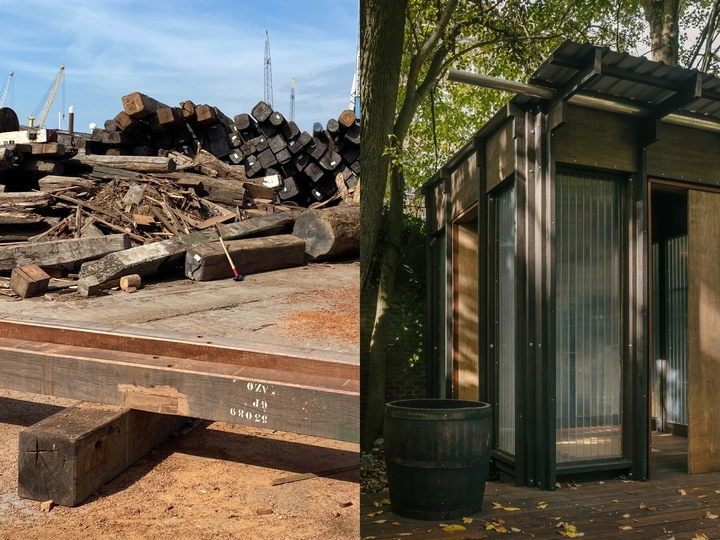 Through a hands-on approach, we initiated a series of 1:1 experiments , a comprehensive toolkit, exploring new aesthetics coming from the urban mines.
---
Studio ACTE
Rotterdam, The Netherlands
Links
Team members
Fanny Bordes
Barriol Estelle
Field of work
Architecture, Design, Ecology, Research, Other
Project category
Material tracking and reuse
Project submitted
2023
After working for Atelier Kempe Thill and ZUS, Estelle Barriol established Studio ACTE in Rotterdam in 2020. The studio focuses on exploring resilient architectures inspired by vernacular systems, emphasizing low-tech and geo-sourced designs based on reuse. Graduated in architecture from ENSA Saint Etienne (FR), Estelle regularly teaches design studios and workshops on bio and geo-based materials. The studio believes in raising awareness among audiences and stakeholders in the construction field, promoting cultural cross-over, and empowering women in the industry.
Studio ACTE focuses on a transdisciplinary approach through exploratory processes to propose positive ways of building and living in response to the ecological emergency. The work includes small and large-scale architectures, material research, self-building, and tends to look for possible applied solutions to answer the depletion of resources and the fragility of ecosystems. Through a Design and Build method driven by experimentation, Studio ACTE rethinks the act of building by involving a hands-on approach and exploring the process of reuse at a 1:1 scale.
Our selection for the Prix de Rome NL with the project "Cultivating the Metropolis", the construction of a Green House made of 100% reused material from a deconstruction, and the design for a rammed earth large office building in South France, are great examples of our ongoing research and dedication to reflecting on available, locally sourced, and bio-based materials. Additionally, the selection for the ongoing Prix d'Architecture Charles Abella with the project Spolia settles a manifesto on the potential of the Paris urban mines, recalling new narratives around deconstruction, to draw optimistic and resilient architectures.
Through hands-on and on-site practices, studio ACTE seeks regenerative architectures that promote reuse, material, people, and culture, inviting craftsmanship and aesthetics as an equation towards sustainability.
---
Resulting in three pavilions built from reused materials, Circular Pavilion, Green House, and Tree House showcase small-scale architectures that explore geo-sourced elements, intertwined throughout their life cycles.Entirely self-built by studio ACTE, from material sourcing to execution, this 1:1 applied research involves a hands-on process from model-making to onsite building and detailing, bringing invaluable expertise.
In 2021, Studio ACTE built a temporary sleeping cabin in Rotterdam from a broad palette of materials harvested from local urban mines.In 2022, the pavilion was deconstructed and transported to Brabant, where it was rebuilt as a plant nursery.The Green House reuses 100% of the deconstructed elements, evolving techniques, and showcasing new assemblies.These two projects were the first in a series of prototypes, providing a 1:1 catalogue of reuse details, a handbook of ways to learn and combine old materials.
The Tree House in Amsterdam, crafted with 5083kg of reused and geo-sourced material, proposes to use only 2% of new material.Built on temporary dry foundations, the wooden beams rest on reused natural stones, and a semi-polished raw earth floor(reused from the Circular Pavilion) dialogues with the wooden structure and floor collected in Rotterdam's harbor (old mooring basralocus piles, markers of the colonial past during the exploitation of the forests of Suriname).The acrylate panels come from deconstructed chicken farms, while the formwork panels were used for the floor of a nightclub.
Spolia made of urban deposits, those experiments question languages and signs through circular designs.Inspired by the vernacular approach, this research presents a reimagined vision of urban ecology, carefully assembling existing and ordinary building components.In response to the depletion of raw materials and the ecological urgency, reuse offers an optimistic field to challenge new alternatives for building future-proof and beautiful spatial solutions.
Fellow