Liquid Futures- Floating Biodiversity Habitats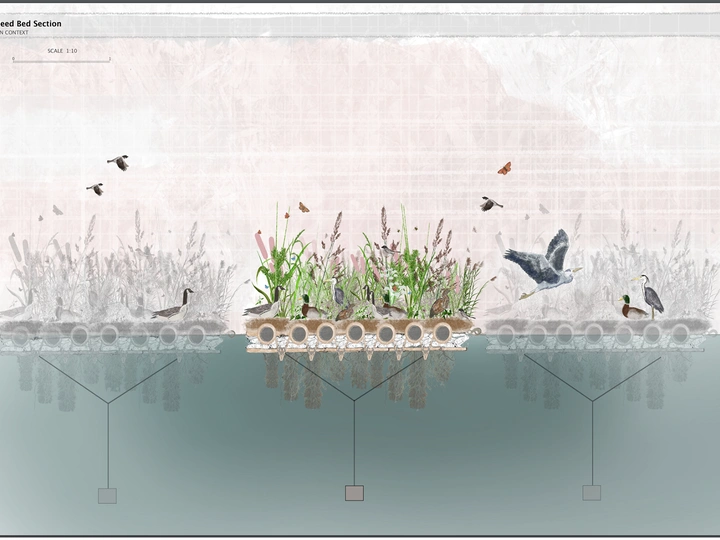 Liquid Futures, a co-production project building Floating Habitats to widen knowledge of water pollution + build meaningful socio-ecological relations
---
Liquid Futures Dean + Santo
River Lea, London, UK. Kochi, Koch-Muziri Biennale, India.
Links
Team members
Duarte Santo
Field of work
Architecture, Landscape architecture, Ecology
Project category
Rural spaces
Project submitted
2022
Dr Dean is a member of the Emerging Territories research team, University of Westminster, Architecture + Cities, Studio Leader Land/Water Interwoven Landscapes. She established the Archive of Rural Contemporary Architecture and a series of ecology community projects.
Santo is an Architect, Landscape and Urban Designer. At Cornell University, he teaches on Material Flows and Diversity, Equity and inclusion in Landscapes and leads the [Eco]Sensorial Studio.
---
Liquid Futures has created a series of Floating Biodiversity Habitats along London's River Lea in co-production with the not-for-profit organization Cody Dock. These habitats assist in filtering the water through a process of rhizo-filtration which sucks up contaminants and nitrates in the contaminated water and act as cleaning systems. The creation of these habitats have provided an opportunity to think with and through the water and its particles, whereby contamination becomes agency and through this engagement new forms of relationships, which address our relationship to the river and wider urban waterways. By questioning dominant forms of urban narratives which privilege the human we aim to explore an alternative mode of practice to give agency to the ecological.
Tsing questions how we coexist and find artful ways to go beyond a purely humanistic view of our relation to the environment. This project, through workshops, making and sharing knowledge from the ecologist to working with observation raises the question; How can we find new human environmental relations to create an artful way of reimagined socio-ecological futures?
We will work with the same set of questions with local ecologists in Kochi, to explore the local relations to water through Kerala's backwaters which flow into Kochi city.