Perma Snacking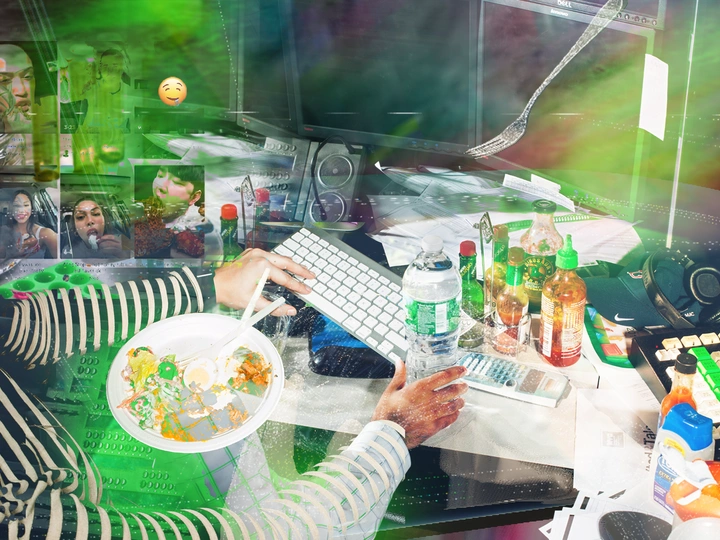 Using architecture as a medium to investigate food in digital cultures as a socio-political phenomena of ecological relevance.
---
Studio z00
Vienna, Austria
Links
Team members
Katharina Sauermann
Sophie Schaffer
Field of work
Architecture, Design, Visual Art, Curating, Research
Project category
Food system
Project submitted
2023
Studio z00 is an architecture collective founded by Sophie Schaffer and Katharina Sauermann. The duo is working at the intersection of space-making and culture, using architecture as a medium for investigation to develop narratives, curatorial concepts and architectural designs. Architecture is understood as a connecting and imaginative medium that situates people, spaces, objects, ecologies, and other systems in relation to and among each other. Studio z00 explored this through diverse means - from installations to urban imaginaries, using design to uncover new relations. Recent projects critically examine contemporary social challenges by looking closer at embodied speculative food futures and the role of digitalization within the domestic and public realm. Together they have participated in national and international exhibitions such as Tallinn Architecture Biennale (2022), and Vienna Design Weeks (2020-23) and Milan Design Week (2022), as well as institutions like MAK in Vienna and Spazio Maiocchi in Milan.
---
Food is energy that influences all aspects of life - from the flow of resources, politics and climate to bodies, desires and well-being. The history of settlements and subsequent urbanization is based on the relation of people and their feed through cultivated land, resulting in cultures and systems that reflect our society's values. However, despite food's central role in our lives, we are often disconnected and unaware of the network around our plates. We live in a food culture believing in the romantic bubble around food, suggested and supported by the industry, while digitalisation, individualism and its social construct lead to behaviors such as eating alone. The lonely consumer can be seen as the product of the gigantic industry inventing snacking cultures for desk-bound lifestyles.
Through our work in architecture and urban studies, we're fascinated with the potential of food as not only a source but also a medium to understand and reflect on digital cultures, considering snacking as a socio-political phenomena of ecological relevance. By creating accessible, public interventions we aim to redefine the value system of food in this context. Though sometimes small in scale, these interventions can have a significant impact. Our recent Project Banana Gas machine explores the idea of an alternative ripening process to reimagine the system of our ready-to-eat culture. We investigated the possibility of a ripening machine, just as the juicer at the local grocery store, following the principles of dependency and proximity of produce to its consumer.
We propose to extend our previous projects, employing architecture as a tool for investigating and spatially reinterpreting food cultures in the digital age. We would like to encapsulate these findings in a narrative, through various media - incl. film, writing and visual arts. This approach aims to amplify the potential of architecture and design within the socio-ecological sphere, creating a new climate culture.