Haus lebt (House Lives)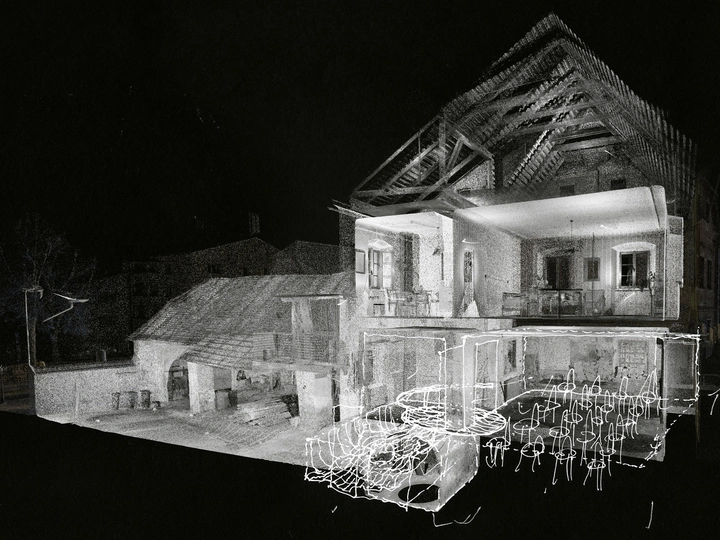 On Time, the Unfinished, and the Emerging
---
INGENIEURS BRICOLEURS
Vienna, Austria
Links
Team members
Simon Brugner
Kateřina Kunzová
Simon Oberhammer
Field of work
Architecture, Photography, Curating, Research
Project category
Renovation
Project submitted
2023
The collective consists of researchers and practitioners from multiple disciplines ranging from art and architecture to photography and writing. We investigate the revitalization of urban wastelands, redensification and adaptive reuse through artistic research, alternative planning methods and performative productions.
Simon Brugner is an artist and photographer with a spatial interest in research based art books, book editing, film making and curating. He has been the artistic director of the haus lebt Festival for the last years. Kateřina Kunzová is architect trained in Brno, Porto and Vienna currently working on her thesis project at the Academy of Fine Arts. She is specialized in urban interventions, housing and residential typologies and architecture workshops for next generation. Simon Oberhammer is an architect and researcher who's has lead several artistic research and exhibition projects and has experience in renovation, material practice, set design and adaptive reuse.
---
The project investigates how to turn a protected urban ruin in a structural weak area into a cultural center. It as well tells the story how urban sprawl has extinguished small town city centers and disconnected their public life. We search for alternative forms of thinking, planning, building and revitalizing those spaces creating potentials for a collective dialogue with the city and the building itself.
We do this with a savage mind and investigate a "savage heritage" (and future) of place and building.
We act as engineers and bricoleurs at the same time and gather material,(hi)stories and structures to form an active dialogue. The project is developed parallel as an architectural project and a temporary festival to do so.
As part of the Haus lebt (House Lives) project, the landmark Baroque cloth cutter's—and later baker's—house at Michaeligasse 10 in Hartberg is being opened to the public. Each year the house is transformed into a cultural center with an extensive program, a utopian excavation, and a Baroque courtyard with café. Following the initial opening of the house in 2021, research and planning results have been transformed in different kinds of constructions and narrations. The removal of architectural layers has revealed details and volumes from different centuries. Walk-through sculptural installations using reclaimed building materials enhance the revealed spaces. Visitors embark on a journey—not following any linear history but sweeping against the grain—through the layers of time.
Haus lebt is in cooperation with several local communities and institutions and has been in the parallel program of steirischer herbst.