Marquise: In Search of Forever Spring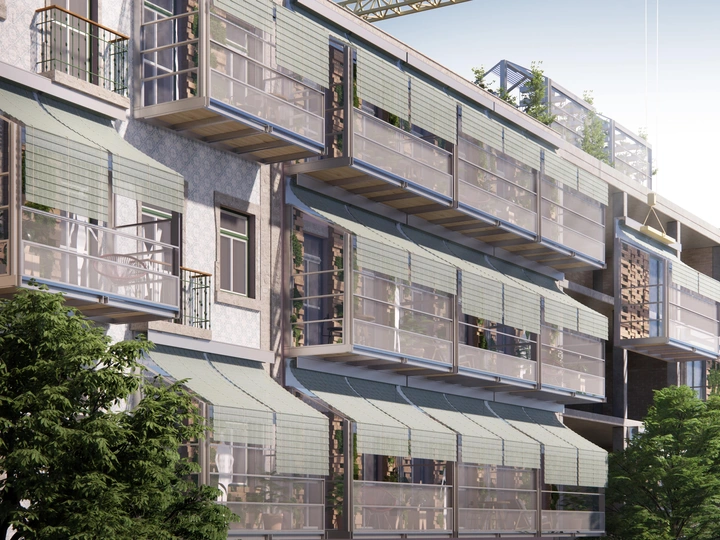 Marquise: Unleashing a Forever Spring Scenario for Portuguese Housing - A Passive Strategy for Revitalization and Retrofitting
---
Hori-zonte
Porto, Portugal
Links
Team members
Mateo Barbero
João Castelo Branco
Adrian Krężlik
Frederico Roeber
André Sanches Pinto
Diogo Teixeira
Madalena Vidigal
Field of work
Architecture, Urban planning, Engineering, Ecology, Research
Project category
Energy
Project submitted
2023
Hori-zonte is an architecture and design office based in Portugal, with a depth of field and imagination towards the horizon. With a diverse range of interventions, every project represents a singular story, adjusted to each cultural, economic, social, and environmental background.
We have experience from smaller residential projects to significant urban planning proposals, considerate landscape interventions, and complex cultural and public institutions. Nature plays a fundamental role in our approach, trying to make the buildings of the future fun and healthier to live in, seeking a net-zero and happy society.
To realize this vision, we call on scientific papers and collaborate with a dynamic, multidisciplinary team of architects, bioclimatic and energy design engineers, biologists, manufacturers, material experts, and more.
Dosta Tec provides environmentally sensitive engineering services, focused on building performance, embodied carbon, and daylight access metrics.
Panoramah! is a bespoke window manufacturer based in Portugal with renowned international projects.
---
Imagine a Portugal where every home thrives in comfort and energy efficiency, contributing significantly to EU decarbonization goals. The reality is contrasting; 56% of our housing stock is aged over 30 years and below expectations.
In pursuit of an innovative solution, we turn to our rich heritage of Portuguese vernacular architecture, drawing inspiration from the passive strategy of the glazed and shaded balcony, or Marquise. Its benefits of solar gains and natural ventilation unlock remarkable energy-saving potential.
Sadly, the marquise has lost its shine in the modern cityscape due to uninformed applications. With meticulous design and integration of innovative components, the marquise becomes a game-changer in retrofitting housing stock.
Embracing the marquise concept, we envision a transformative strategy that stores and transfers passive heat, reducing winter heating needs. As in summer, exhaust air and shading filter sunlight, infusing interiors with refreshing air while simultaneously capturing the energy demand of the apartment, integrating solar shingles on it. An earthen blocks insulating layer mitigates heat loss as it hosts plants that filter street noise and polluted air and boost biodiversity.
Marquises endure weather extremes, demanding durable materials. By repurposing surplus materials from the window frame industry, we spare landfills.
Our mission transcends buildings; it's about enriching lives to create healthier and happier environments. We strive for a greener and more sustainable Europe aligned with the EU taxonomy goals and SDGs.
This project's core lies in a holistic approach, optimizing energy usage while adapting to unique circumstances. Together collective expertise is working to develop a prototype to be monetarized and introduced to the public in parks, fairs, and exhibitions. We aspire to create a forever spring—a union of thermal comfort, sustainability, and beauty that ensures Portugal blossoms with vitality and well-being.