New Jersey Table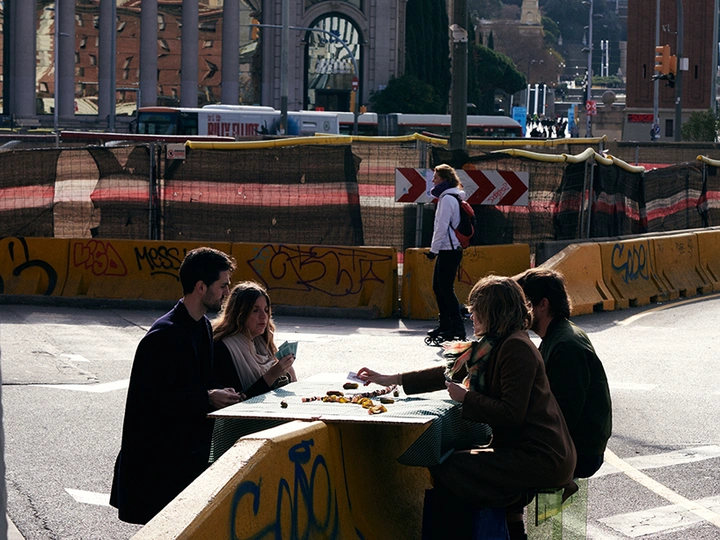 How to turn an urban barrier into domestic design
---
Arnau Pascual
Barcelona, Spain
Links
Field of work
Architecture, Design, Research
Project category
Renovation
Project submitted
2022
Arnau Pascual is an independent architect, designer and editor from Barcelona. He holds a bachelor and master's in Architecture and Urbanism from ETSAB with studies at the ETH in Zürich. he has worked previously for Pool Architeckten (Zürich), professor assistant for Andrea Deplazes, Flores & Prats (Barcelona) and Mateoarquitectura (Barcelona). He is the former editorial assitant of TRANSFER Global Architecture Platform and book editor of Footprints Texts 2005-2020 by Josep Lluís Mateo.
---
The recent COVID-19 pandemic has provoked many reflections in all areas, and within urban planning a new way of looking at the city. A fundamental issue is the reduction of urban mobility via private vehicle in favour of pedestrian movement. The months of lockdown made possible the partial application of tactical urban measures and saw the placement of New Jersey-style Road barriers across the city. Their aim was to win back space from roadways and parking allotments to allow for the creation of outdoor terraces for bars and restaurants.
The accumulation of these yellow artefacts generated much debate due to their perilous nature, but also because of the aesthetics of such a heavy and industrial presence. The origin of these urban barriers can be found in the same city that gives them their name, New Jersey. It was here that they were first installed in the mid-twentieth century as a preventive limitation on the city's highways for vehicular safety. The design, conceived as a prefabricated and reinforced concrete standard, facilitated its production, and its functional efficiency on the roads popularised its use all over the world, even reaching the streets of Barcelona.
Throughout this year the local government will begin to remove and replace the barriers with new ones more suitable for its terraces, making imminent the New Jersey barrier's return to the municipal warehouses. Even so, their recurrent image within the city gives rise to a second life for these artefacts: their precise height coincides with the standard height of a table.
The premise of turning a barrier into a table surely must call for a performative project in which a dividing element that one tends to move away from becomes a domestic one that invites approach. The objective of this intervention is to seek a change of meaning and use for an element that is part of the urban and global collective imaginary, transforming it into a piece of design that can endure over time.