https://2500000t.com/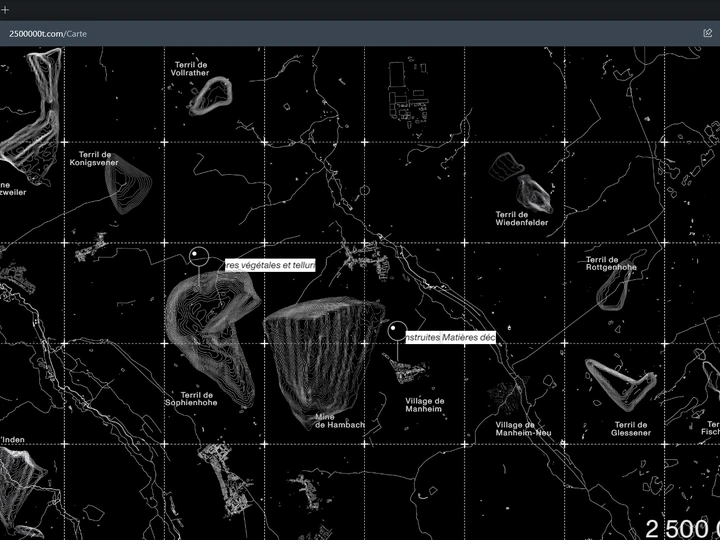 This project is an informative system of specific geolocalized resources linked to the extractive industry of lignite in the Rhineland, Germany.
---
Caroline Husson
Lignite mines, Rhineland region, Germany
Links
Field of work
Architecture, Ecology, Research
Project category
Raising awareness
Project submitted
2022
Caroline Husson is a young french architect, that graduated in 2022 from ENSA-V (France). Her interest focus on elaborating new forms of tools in Architecture that question our position as Architects. It is associated with a need to rethink our ways of building, by exploring notions of self-construction, education and new forms of sharing
---
The high lignite content of the soils of the Rhineland region in Germany has, for decades, strongly modified the landscape of this territory. This project proposes to look at this territory in its specificities; it aims to pose a regard on architectural and landscape mutations linked to this extraction that, under the form of
clearings and demolitions, recreate landscapes in mutations, with indefinite boundaries: built or destroyed, natural or artificial ?
The project hypothesis argues that it is through a renewed engagement with its territory, its resources and its new specificities that the inhabitant will be able to reclaim its territory. By searching in what seems to be a landscape desolated by this intensive extractive activity, the idea is then to identify what could reveal itself as potential of a new form of development. This project, under the form of a website, proposes to create a new system of geolocalized resources specific to this territory, in their relation to this existing extractive situation. The form of the website, by its immediate sharing, becomes a platform accessible to the inhabitants of this territory.