Sustainable Safe Zones: War-Resilient Villages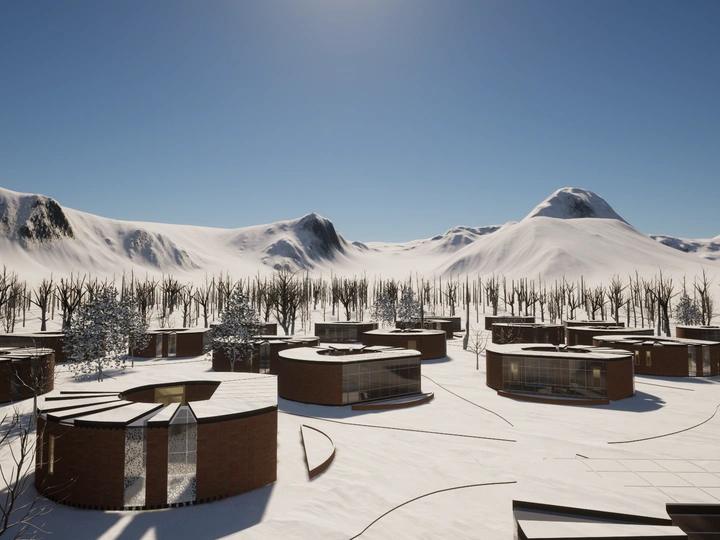 Creating Safe & Sustainable Refugee Villages: Architectural Solutions for War-Resilience & Ecological Harmony
---
Guram Mgeladze
Tbilisi, Georgia
Links
Team members
Guram Mgeladze
Field of work
Architecture, Design, Urban planning
Project category
Sustainable mobility
Project submitted
2023
I am Guram Mgeladze, a Georgian-based architect specializing in urban architecture. My journey began with a Bachelor's degree from Georgian Technical University, followed by a commitment to architectural aspirations as I pursued a Master's degree. Simultaneously, I honed my skills and knowledge by working at "Bau Star," a leading Georgian construction and development company focused on sustainable residential buildings in Tbilisi and Rustavi.
Over the past eight years as a Senior Architect at "Bau Star," I have demonstrated proficiency in managing projects, leading teams, and overseeing architectural endeavors from concept to completion. Collaborating with clients, managing budgets, and coordinating with stakeholders have been integral to my role.
In 2022, obtaining licensure to practice independently, I embarked on private projects, with a particular focus on sustainable housing and the reconstruction of city districts. My passion lies in bridging the gap between the rigid definitions of "old" and "new" in reconstruction. I strive to create projects where the two seamlessly interconnect, fostering a culturally rich and dynamic urban environment. With an unwavering commitment to architectural innovation, I am dedicated to shaping transformative spaces that harmoniously blend the past and the present.
---
As a Georgian architect, the specter of war remains a constant, a companion we never desire.
Village-type settlements emerge as a promising response to the challenges posed by conflicts and war. These settlements provide safe havens for refugees during conflicts. Environmental sustainability lies at the heart of this settlement design. Eco-friendly materials, renewable resources, and energy-efficient technologies construct buildings. Green spaces and nature conservation efforts mitigate ecological strain caused by increased population density during refugee phases. Smart urban planning eases traffic congestion and promotes eco-friendly mobility. Pedestrian-friendly pathways, cycling lanes, and efficient public transportation encourage residents to embrace sustainable transport options, reducing carbon emissions and enhancing overall experiences.
Sustainable architecture ensures settlements endure through time. Passive design techniques like natural ventilation and solar energy harvesting reduce energy consumption. Rainwater harvesting and wastewater recycling systems conserve resources and promote water sustainability. Cultural exchange thrives within these settlements, fostering inclusivity among refugees and locals. Community centers, cultural events, and shared spaces facilitate interactions, nurturing mutual understanding and appreciation of diverse cultures.
The sustainability of the project results is ensured on an economic level as well. Village-type settlements have the full potential to act as tourist housings in peaceful times. State regulation governs tourist accommodation pricing to maintain economic stability, preventing drastic price fluctuations while ensuring affordability for tourists and benefiting the local economy. These funds will be used for the development of areas that resemble the described settlements. Accordingly, the indefinite costs incurred by the state on refugees will be reduced.