Eraser city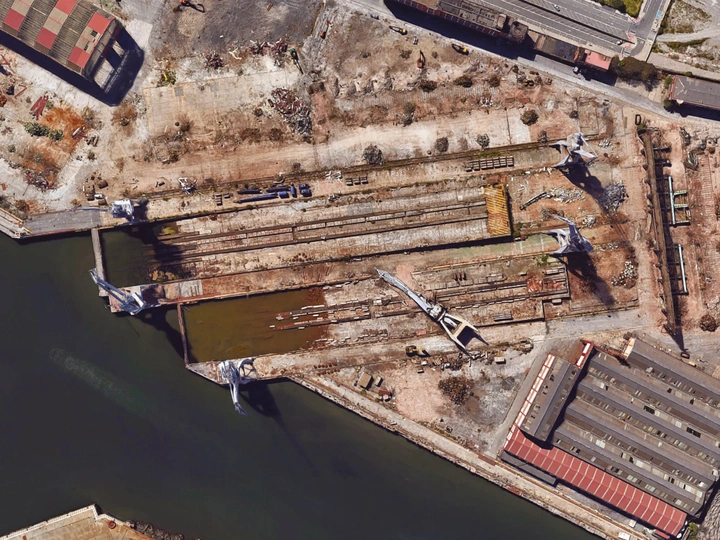 Embrace the eraser city's essence! Reclaim the post-industrial wastelands in Bilbao's heart! Let's make a transformative tale of forgotten narratives!
---
FIASCO
Bilbao, Basque Country, Spain
Links
Team members
Ibai Etxezarraga
Naiara Otaegi
Xabier Polledo
Diego Sologuren
Field of work
Urban planning, Landscape architecture, Visual Art, Photography, Research
Project category
Urbanity
Project submitted
2023
Fiasco, a nonchalant dissident group of post-political practitioners and researchers, is based in the metropole of Bilbao. Their aim is to positively contribute to unveiling derelict forms, obliterated imaginaries, and contingent alliances.
Team:
Grounddigger, flâneur, agitator:
Ibai Etxezarraga (1985, Bedia) holds a degree in architecture and an MA in author photography. He believes in the qualitative potential of action research and dérive as a method of exploration and inquiry. As part of his final degree project, he worked on a voluntary basis in a desulphurization plant for two years to approach the urban question.
Structurer and cohesive force:
Naiara Otaegi (1991, Legazpi) holds a degree in architecture and an MA in ceramics (art & design). After four years of work experience in Brussels, where she focused on refurbishment projects, she co-founded the architecture practice Anarte in 2021. The shared idea of "construction" motivates her to explore different disciplines and also contemplate the city.
Researcher of the unknown:
Xabier Polledo Arrizabalaga (1990, Lemoa) holds a degree in architecture and an MSc in territorial organization. He is a Ph.D. candidate, focusing on social and political structures, urban planning, and EU cultural policy. His expertise encompasses culture, design, and planning. Currently, he works as a researcher at the Micaela Portilla Research Centre and holds a visiting researcher position at the CNRS in Bayonne.
Interweaver of local and foreign coalitions:
Diego Sologuren (1985, Bilbao) holds a degree in architecture. He has worked at the office of the 2022 Pritzker awarded architect, Francis Kéré, which influenced his approach to architecture and design. Since 2020, he has been developing his own experimental praxis, committed to pushing architecture to its conceptual boundaries with other disciplines through an unceasing process of subverting the conventional and exploring territory, memory, and action.
---
In the realm where heritage intertwines with urban landscapes, a proposal emerges, beckoning us to explore the connection between the post-Guggenheim urban policies in Bilbao and the tapestry of post-industrial wastelands that graze its riverside. This gaze transcends the boundaries of conventional perception, embracing the untrodden paths of speculative reimagination. As a global beacon of culture-led regeneration, Bilbao prides itself on its architectural icons, now stranded riverside as a relic of aspirations from the near past. They serve as a testament to the transformative power of the art of investing in art. Let us venture beyond the city's heart, beyond the confines of its centre, to a dormant periphery -yet the geographic metropolitan centre- hidden in the shadows of urban segregation. In these forgotten corners of the metropolis, the essence of the failed capitalist praxis takes root, gestating within post-industrial wastelands. These remnants of a bygone era bear witness to the passage of time and the failure of urban speculation. Dilapidated structures and landscapes stand as silent mausoleums of forgotten urban aspirations, the neglected verses of an unfinished symphony that evoke the beauty of class struggle. No longer mere blights on the urban tapestry, they become hallowed grounds, potent reminders of the housing bubble failure. With audacity, we redefine the very nature of urban classification, elevating wastelands to a place of reference and infusing the joy of class consciousness and memory. Unveiling the unspoken legacy of Bilbao, we breathe life into this reversed landscaping tool, proposing non-traumatic urban change as a healing measure in the face of the loss of Bilbao's identity. This endeavour calls for reclamation. Each enduringly neglected area becomes a poignant stroke in the narrative of Bilbao's discourse on success. A celebration of the returning stories yearning to be heard. Stories of resilience, mutability, and adaptability.