With Forests Comes Innovation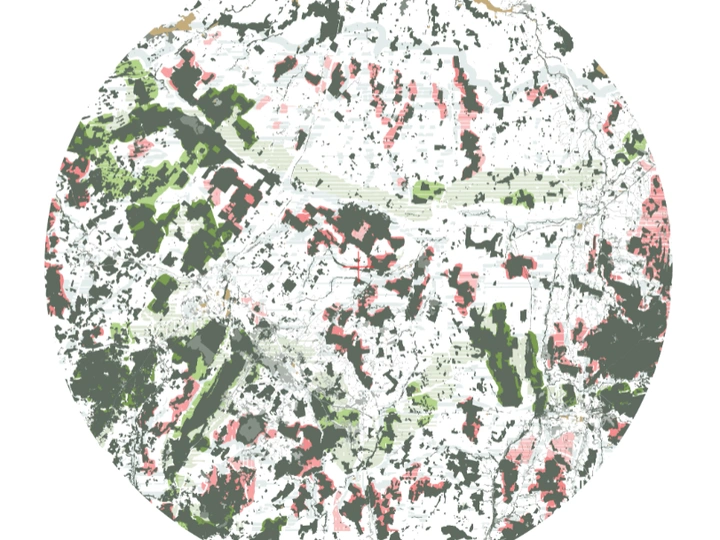 Atlas for future circular regions
---
Paulius Kliučininkas
Lithuania / Kaunas, the Netherlands / Rotterdam
Links
Team members
Paulius Kliucininkas
Field of work
Architecture, Urban planning, Landscape architecture, Curating, Research
Project category
Rural spaces
Project submitted
2023
Architect, urban planner, designer, and strategist – I was raised in urban environments in Lithuania, deeply connected to the Baltic Sea Region. My expertise spans planning and design across various scales, from regional to building levels. In addition to my conventional urban planning and design work, I am actively engaged in research, education, curation, and writing on spatial subjects and arts. Secretly, I am intrigued by the concept of metamodern life and the interplay between films and cities.
Formally, my education in Lithuania was focused on architecture, and later in the Netherlands, I pursued urbanism studies. During the day, I serve as an advisor for architectural and urban innovations at the Ministry of Environment. However, my evenings are dedicated to engaging in artistic experiments and explorations. This unique approach allows me to bridge the gap between grand political visions, future planning, and legislation with the intimate, informal, and artistic aspects of everyday life. Constantly shifting between different scales has become an integral part of my practical life.
An essential aspect of my work is the interplay between art/design and politics, as they mutually inform and enrich one another. This symbiotic relationship allows me to draw insights from both realms and contribute meaningfully to each.
My areas of interest and specialization encompass territories, cross-border collaboration, sustainable planning, spatial-strategic planning, urban manufacturing, degrowth, (macro) regional planning, the Baltic Sea Region, city-port development, urban regeneration, circular economy, landscape urbanism, maritime spatial planning, atmospheric planning, radical contextualism, and metamodernism.
---
Gone are the days of just busy development and ring roads defining the city of tomorrow. It's more like a big network of places where we all live. I noticed this happening in the Netherlands, China, and Nordic countries. So, I wanted to explore how big European plans connect with everyday life in local areas. This led me to focus on regional design in the Baltic context, giving importance to circular economy and bio-production, especially because Lithuania has a lot of farmland.
Instead of just looking at the city, I took a broader view from the landscape perspective, considering bio-production and ecology. That's when I started working on an atlas—a map of different futures based on nature, economy, and society. I tried this out on a 50 km area around the project location. The conclusion turned to alternative landscapes: old abandoned places, future ideas, and patches in between.
I learned a lot from talking and visiting the area. I talked to local people, farmers, artists, and producers to understand how they all play a part in producing things like bio-materials and food. The most exciting part was making a regional planning board game, where locals could create their own farms based on the landscape and climate. It was a fun way to work together on personal and serious subjects.
This experiment is part of a bigger project on regional planning, design, and circular economy. In Europe, a number of initiatives and directives are already focusing on bio-based production and reusing stuff. What I learned can be used in educational projects and political practices. And the game can be a useful tool to improve planning in any community.