Domestic Ecosystem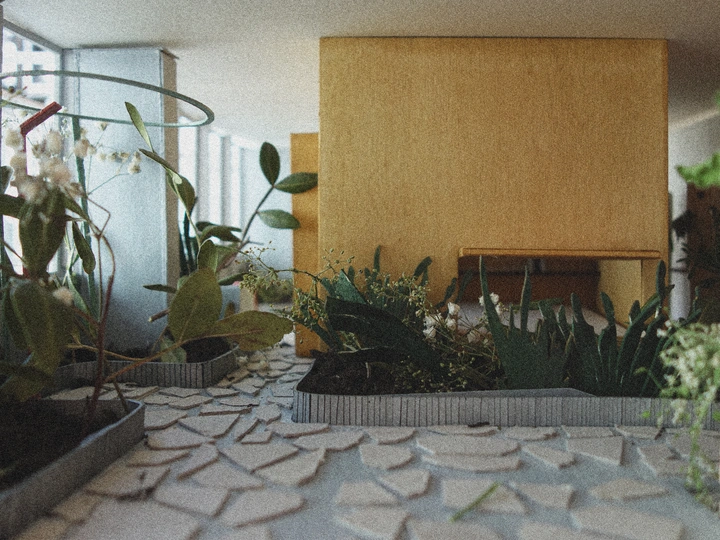 This project addresses the issue of food scarcity, by transforming subsistence agricultural production into a catalyzing domestic practice.
---
Waldram/Musil/Scurtu
Geneva, Switzerland
Links
Team members
Musil Jonas Richard
Waldram Natalie
Scurtu Thea
Field of work
Architecture, Visual Art, Film
Project category
Food system
Project submitted
2022
Jonas Musil (Bauhaus-Universität Weimar, born 1995 in Vienna), Thea Scurtu (RWTH Aachen, born 1997 in Brasov) and Natalie Waldram (Carnegie Mellon University, born 2000 in Portland) are masters architecture students. They met in 2022 during their exchange at École Polytechnique Fédérale de Lausanne where their project Domestic Ecosystem was born. Since then they aim to focus on the symbioses between humans and their environment, and to address the issue of food scarcity in our cities.
---
Our global food systems are failing our global community by vastly prioritizing an abundance of low-cost foods facilitated by the use of synthetic fertilizers, chemical pesticides, and high-yield crop in an effort to feed an expanding population. The current model of food consumption and production has an entrenched reliance on the overexploitation of precious resources such as soil, fresh water, and fossil fuels while also acclimating producers and consumers to gluttonous quantities and qualities of industrial waste and pollution. The vulnerability of urban food systems is becoming increasingly apparent in the light of climate change and on-going global conflicts which highlight the particular challenge of globalized, dependency on each functioning element of urban food supply chains. Our project combats physical and psychological disconnection from the process of food production both on a personal and industrial scale to propagate thoughtful consumption and care for human and non-human communities while also proposing an opportunity for source diversification in light of food system vulnerabilities. This project creates the infrastructure for substantive food production in the urban landscape of Geneva and promotes a culture of care for the production and sustenance of the human and nonhuman ecosystem of the building community.
Symbiotic relationships between human and nonhuman inhabitants are integrated into the design to improve the quality of life for all inhabitants in which every actor contributes to the community's ability to live happy, healthy, fruitful lives as one complex and interdependent ecosystem. The cohabitation of human and non-humans should improve every being's quality of life while also not compromising the broader goal and effort to create substantive food production for the localized community. We want to create an expandable infrastructure within the domestic space to work towards the expanding human demands within the housing community.