Building resilient houses & communities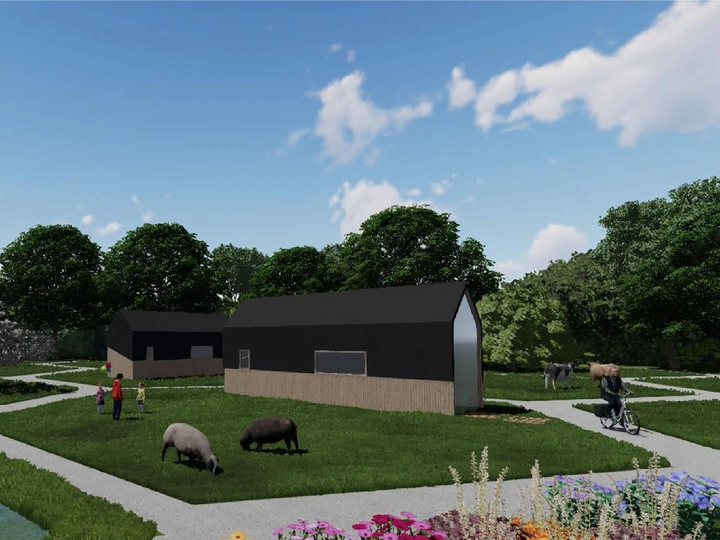 Using 140 reclaimed wooden pallets and some reclaimed wood, we will build small houses under 30 sqm that are 70% recycled and off the grid.
---
Preoblikovalnica
Ljubljana, Slovenia, but is easily transfered to any global location.
Links
Team members
Samed Babić
Lea Berlic
Lara Gorenc
Julijana Hladnik
Jakob Kolman
Andrej Kurent
Field of work
Architecture
Project category
Material tracking and reuse
Project submitted
2022
Preoblikovalnica has successfully fabricated furniture using discarded materials, renovated spaces with repurposed materials and is now looking towards the future: building houses with recycled materials on a greater scale. Our most notable achievements are renovation of a bus into a mobile Youth Center and building first plastic-free shop in Ljubljana.
Andrej is leading the project, Samed is in charge of hands-on operations and a student team helped to develop the community around the house.
---
This project addresses two problems: lack of affordable housing and abundance of discarded wooden pallets which is estimated to be 150 million units yearly.
Using 140 reclaimed wooden pallets and approximately 1 cubic meter of reclaimed structural wood we will build tiny houses with 70% recycled materials. Its smart design allows for two people to reside in it for a longer period of time. But even a family of 4 could spend holidays in it. Designing principles from boats and caravans helped us include all the home appliances, storage space and comfort of a full size apartment in our project.
Each housing unit will be self-sufficient. It will be heated by IR panels; produce electricity via solar panels; water for kitchen and bathroom will be collected from rain and preheated with solar collectors. Finished surfaces for interior and exterior will require very little maintenance and will be cheap to upkeep.
Individual houses are located on hexagonal plots – honeycombs, which are building blocks of a beehive. Created micro community is governed by a general assembly of members of the community. Members take over different tasks and responsibilities that help the community flourish. An individual can grow tomatoes on their plot, or can build a small chicken farm, or even establish a woodworking shop that helps to upkeep the whole community. Exchange of goods and services within beehive makes it very resilient to local and global crisis, economic shocks and other disconcerting happenings of 21st century.
The building and urban design are very flexible and can be easily adjusted to the most climates around the world. The construction of the house is not complicated and requires common woodworking tools. Most of the structural elements can be prefabricated and just installed on site.