Empathy Retreat - Inclusive Dialogue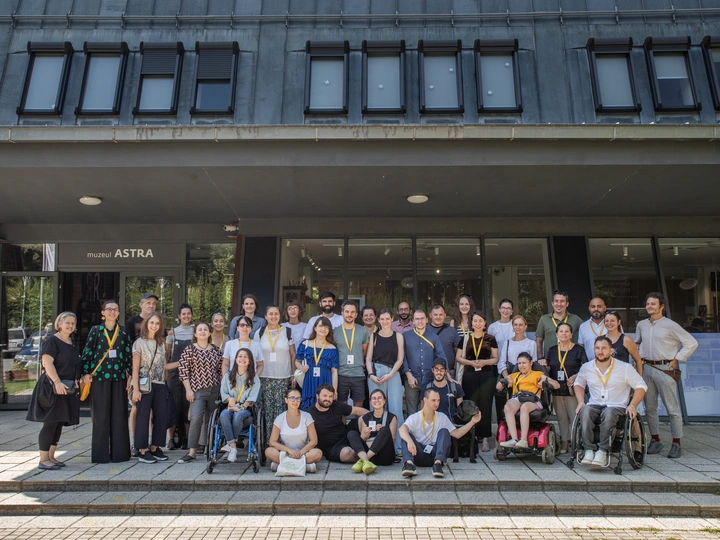 Turning accessibility and inclusion into natural parts of the design process by bringing diverse people together and start listening to each other.
---
AMAIS design
Bucharest, Romania
Links
Team members
Iris Popescu
Teodora Sarbu
Andreea Tanase
Field of work
Architecture, Design, Urban planning, Research, Other
Project category
Public space
Project submitted
2023
I am Iris Popescu, an activist and an architect specialised in inclusive design and accessibility. My main focus is developing instruments that help built environment professionals to turn accessibility and inclusion into natural parts of the design process while overcoming this bias of it being ''the special case''.
In 2015, I started AMAIS, an NGO which offers educational experiences complementary to the existing academic system. Our mission is focused on building an equitable society for people with permanent, temporary and context-based disabilities, by applying the principles of inclusive design through architecture, technology and social projects.
I have coordinated many of AMAIS' projects like: design of inclusive playgrounds, public spaces, community center; bringing people with and without disabilities together and doing research on improving the built environment; organising empathy workshops; access audits for public and private sector; writing and coordinating the first Inclusive design guide in Romania.
I received my PhD degree in 2020, Summa cum Laude in architecture, from the "Ion Mincu" University of Architecture and Urban Planning. My thesis focuses on the architect's social responsibility and the benefits of using empathy in design to enrich the community's relationship with the built environment, while defining a new architecture program based on an "inclusive social context" for segregated communities.
When it comes to generating inclusive experiences that stimulate empathy, I work alongside Andreea Tanase. She is an architect, a playwright, a writer and a comedy improviser. She also focuses on creating social and cultural performances where diverse people can interact in one-on-one or group settings, with an accent on highlighting socially relevant topics. She uses dialogue, storytelling and emotion as tools that bring people together, generating contexts where everyone can find common ground, in spite of their differences.
---
The effects of climate change, migration, social segregation, aging population, political&cultural divisions and the economic effects of the pandemic and wars, are amplifying. People have started to collaborate to solve the common problems of society, but it is clear that some groups still cannot participate. Thus, it is possible that many of the existing problems are not taken into account.
Architects must identify these people, understand the obstacles faced and empathise with their needs to facilitate access. To be able to design these spaces and understand the inclusive approach, architects need a place to practice the ability to listen, empathise and know human diversity.
We created the Empathy Retreat- Inclusive Dialogue research project: an intersectional context in which the participants also directly contributed to writing the first Romanian inclusive design guide. We brought together 32 people of different ages, from various social and professional categories, among them architects, urban planners, expert citizens, local councillors from town halls, activists, from the queer spectrum, with visual, locomotor, hearing disabilities, neurodivergent people or (temporarily) without disabilities.
Inclusive dialogue is the first step for accessibility to become a priority in the design and development of sustainable public or private spaces. The goal of the retreat is to challenge individual perspectives on human diversity and how they define our relationship with the environment, to understand common situations of exclusion in relation to accessibility. We believe that understanding the obstacles faced by diverse people, becomes the way we can build an inclusive society – where human diversity is the norm, not the exception. It was necessary to provide this, in order to understand why the shift to an inclusive approach is beneficial for the community as a whole, but also for them as individuals, regardless of the category they consider themselves to be in.