Can we build differently? A hempcrete factory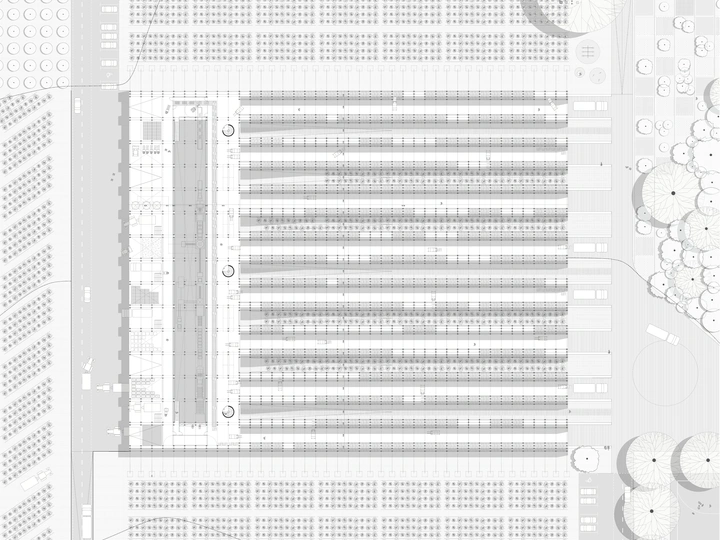 Hempcrete absorbs CO2 from the atmosphere, inhibiting a climate catastrophe. The factory, surrounded by hop fields, is inseparable from the landscape.
---
Lenart
Ljubljana, Slovenia
Links
Team members
Lenart Piano
Field of work
Architecture, Design, Urban planning, Landscape architecture, Ecology
Project category
Rural spaces
Project submitted
2023
A young architect, working at the ARK arhitektura Krušec studio in Ljubljana and separately as a sole practitioner on projects of a smaller scale.
I have a two year teaching experience at the Faculty of architecture in Ljubljana where i worked as a demonstrator/technical consultant for Architectural design 3 and Studio Krušec courses. I have several published articles dealing with public space (Oris 2019) and climate change (Hiše 2023).
Most recently my master thesis titled "Can we build differently?" has received international recognition by being selected as one of the 9 finalists for the 2023 EUMies Awards in the Young Talent category as well as being a shortlist for the 2022 Student Piranesi Award at the Piran days of architecture. The project has also received the highest national architectural student award: the 2023 Plečnik awards student scholarship and a Prešeren award granted by the Faculty of architecture in Ljubljana.
The scholarship has enabled me to continue the Can we build differently? project through product design (a series of Hempcrete furniture objects), lectures and talks (Big See festival, Are we winning? open panel discussion, Piran days of architecture 2023 lecture) and architecture (project for Hemp-kit-houses and a hotel in Prekmurska region).
My interests are in the field of architecture, which I view much broader than just being about building. Rather it is a certain way of creating written works, products, theater, films and of course built objects. I view climate change as one of those rare historic events (akin to the industrial revolution and the consequential rise of modernism) that have the potential to transform and regenerate the field of architecture. Further, I am interested in how a certain political will can be materialised through architecture especially in the growth of cities (as in the works of Pier Vittorio Aureli) and the intriguing relationship between the urban and the rural that is specific to Slovenia.
---
Global warming poses an existential threat to our existence. The materials we are using today are no longer appropriate to our time. Energy efficient buildings are being built without considering the ethics of the building process. Building another way is almost impossible as there is a critical lack of infrastructure to offer an alternative material to unrecyclable layers out of which we compose our energy efficient houses.
The project aims to trigger an ethical way of building by understanding climate change as a local problematic of global proportions. Exploitation of the Savinja Valley (known as the valley of green gold for its extensive hop fields) can be offset by substituting the hop monoculture with industrial hemp, reorganizing its resources towards a circular economy. Hempcrete is a natural insulation, absorbing carbon from the atmosphere through it's production. A hempcrete factory is proposed in an abandoned industrial zone, surrounded by hop fields. Nearby is an abandoned renaissance manor, the church of St. Mathew and a highway which enables quick transport routes.
Industrial buildings should become locally conditioned structures which enhance rather than erase their context. The principles of vernacular structures of hop fields and driers are reinterpreted in devising a sustainable production process. Hemp shives from local hemp grown on abandoned fields, are mixed with water and lime to form bricks that take three months to dry so wooden racks are formed in long lines to facilitate them, forming the structure of the factory to exist as just another hop field. The production hall is placed perpendicular under the racks which become a construction element enabling diffuse light to enter the interior. The bricks are used in renovating the adjacent manor, which becomes a "case-study" object for building with hempcrete with a gallery and public amenities. Building becomes a part of the cycle of growth, transformation and decay, enabling new life.