Visiting: Ivry-sur-Seine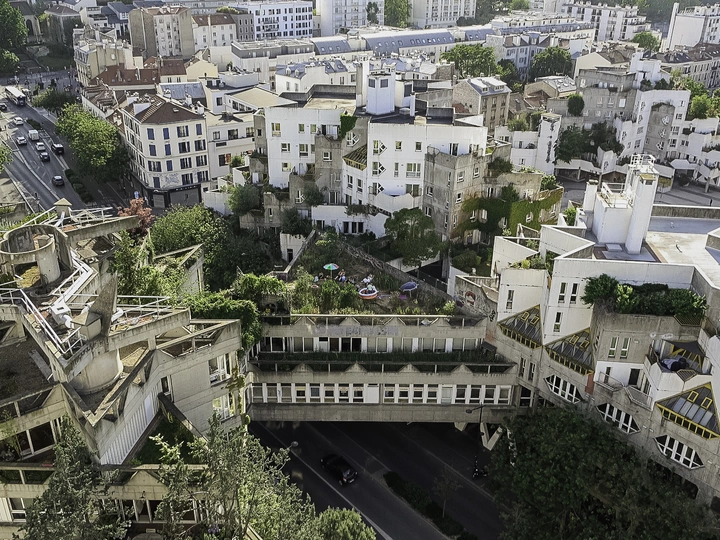 A 3-channel video installation displayed in public space shows stories of Ivry-sur-Seine's inhabitants and unfolds collective imaginaries.
---
urban fragment observatory [ufo ufo]
Berlin, Germany
Links
Team members
Jeanne Astrup-Chauvaux
Sebastian Díaz de León
Lena Löhnert
Florine Schüschke
Field of work
Architecture, Ecology, Multimedia, Film, Research
Project category
Raising awareness
Project submitted
2023
urban fragment observatory [ufo ufo] is a spatial research collective based in Berlin, documenting fragments of the city that show a way out of the monotony of our built environment. Our work focuses on the lived reality of spaces. Using different media such as film, field recordings, mapping, participatory research methods and performance, we aim to highlight the qualities of existing social architectures across Europe. At the intersection of urban practices, architecture and activism our approach is transdisciplinary & situated. We often cooperate with local initiatives and inhabitants, as "experts" from which we learn and whom we include in our creative process.
With backgrounds in art and architecture we are oftentimes critical towards classical architectural approaches and want to participate in the creation of new urban narratives from which cities can further be planned and built. We believe that in order to deal with the upcoming challenges of an uncertain social and climatic future, urban planning should not rely on current dynamics of demolition and growth, following profit oriented development but rather take a step back and look towards existing examples of qualitative housing, in which strong social interactions already take place. Taking care, repairing & maintaining the spaces in which we live together are actions that behold a high potential for social cohesion and should be part of our everyday life.
In 2023 our project "Visiting Abriss" ("Visiting Demolition") focused on the consequences of building demolitions in Berlin, a practice embedded in gentrification and displacement processes and whose negative ecological impact cannot longer be ignored. We addressed this topic through a performative street demonstration which ended with the projection of a short-film on the facade of a building about to be demolished itself. Our working language is German, but we also speak English, French & Spanish. We also teach in various (un)academical contexts.
---
While the lack of affordable, sustainable yet qualitative spaces is critical, It is clear that expensive housing has become the common answer to the expansion and densification of major European cities. In this context, we believe it is crucial to learn from already existing outstanding structures, in which inhabitants feel empowered to produce collaborative practices of living. By shedding a new light on these places, we want to stress their significance as sustainable urban spaces for today and tomorrow, while making a strong argument for their preservation.
In the 1960's, Ivry sur Seine was the theater of a groundbreaking social housing operation. The communist municipality appointed architect Renée Gailhoustet to develop the urban plans for ten buildings to be built over a period of 15 years, radically transforming the urban fabric of the city. Together with architect Renaudie, Gailhoustet concretized an architecture deeply anchored in socialist values of communal living and social equity. Still today the playfulness and complexity of this architecture challenges our understanding of urbanity. The hybridity of the programmatic offer and the generous place dedicated to urban ecosystems on the many terraces make Ivry's structures an example of resilient, ecological and foremost deeply social architecture.
During a 3-week residency in Ivry, we worked in close collaboration with the local associations "jardins a tous les étages" & "Arch'Ivry". Through workshops, visits and informal moments of conviviality, we collected stories, secrets and personal experiences of the inhabitants and weaved them into 3 fictional storylines depicting daily - yet unconventional and careful - practices linked to the city. The outcome is a 3-channel video installation that will be projected in public space in Ivry and in Berlin with the aim to convey emotions, trigger imagination & create a link between two metropoles facing similar challenges in the field of urban development.