Museum Of Contemporary Sculptures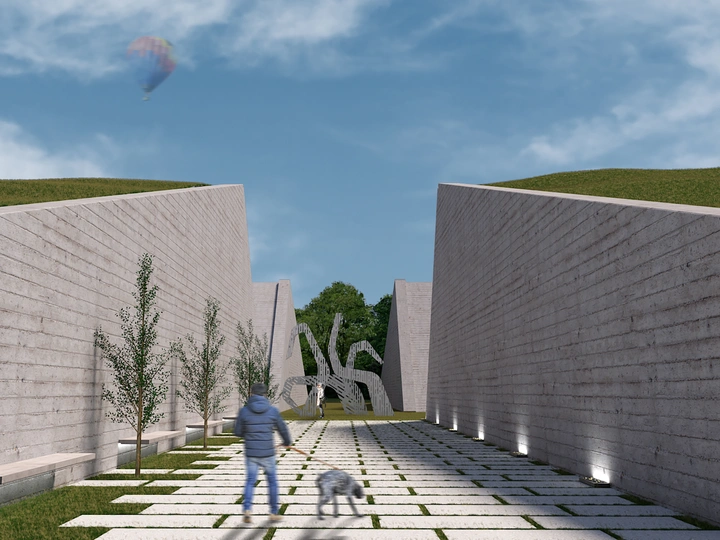 Museum of Contemporary Sculptures: A serene urban oasis where art and nature harmoniously converge, inviting you to explore creativity and culture.
---
Pavle Tuševljak
Belgrade, Serbia
Links
Team members
Pavle Tuševljak
Field of work
Architecture, Design, Visual Art, Multimedia, Photography
Project category
Public space
Project submitted
2023
I am Pavle Tuševljak, a fourth-year student of Architecture and Urbanism, pursuing my academic journey at the esteemed "Union - Nikola Tesla" University in Belgrade. I am twenty-one years of age, and hail from the vibrant city of Sarajevo in Bosnia and Herzegovina, where I completed high-school. Art has always captivated me, and architecture became my profound passion. Along my journey, I embraced photography, cinematography, and design, enriching my artistic sensibilities.
For the past three years, I've focused on conceptual photography and portraiture, exploring the limitless possibilities of visual storytelling. This fusion of architecture and photography kindled a curiosity for design, where I experiment with captivating visual concepts like form, geometry, and typography, and more.
I perceive architecture not merely as a discipline of construction but as a transformative force capable of enriching people's lives profoundly. Embracing this philosophy, I approach my creative work with a heartfelt dedication to contributing positively to the human experience.
As a photographer, my artistic journey has witnessed the pleasure of two exhibitions at the esteemed alternative cultural center in Belgrade, where I have collaborated with models and renowned brands to bring captivating visions to life. Additionally, my academic pursuits have led me to immerse myself in numerous projects both within the university and in collaboration with three distinguished architectural studios. Among these, the project that holds a special place in my heart is the renewable IT park in Indjija, Serbia, envisioned for Colliers (West properties) and Embassy Group.
I'm honored to have had my artistic efforts acknowledged at the prestigious 10th International Landscape Architecture Exhibition in Belgrade, continuing to inspire my creative journey.
---
The Museum of Contemporary Sculptures is conceived as an interactive spatial complex obtained by forming an artificial elevation whose surface is also the roof of the museum pavilions. The pavilions are broken up by a cruciform corridor, which is cut off at a greater angle towards the interior, which leads to a narrowing of the walkway and an emphasis on the approach to the atrium itself, which contributes to the monumentality and massiveness of the building. The roofs over the atrium are inverted, showing a fluid rhythm and open views towards the natural environment.
The frontal facades of the building are conceived as posters and spaces for visual animations related to art installations that are stationed both in the interior and exterior, negating the very concept of limiting space. In addition to its cultural significance, the building was conceived as a kind of space for recreation and relaxation, considering its form and surroundings. Sustainability is reflected precisely in the articulation of space and the monitoring of natural dynamics.