Deus Ex Machina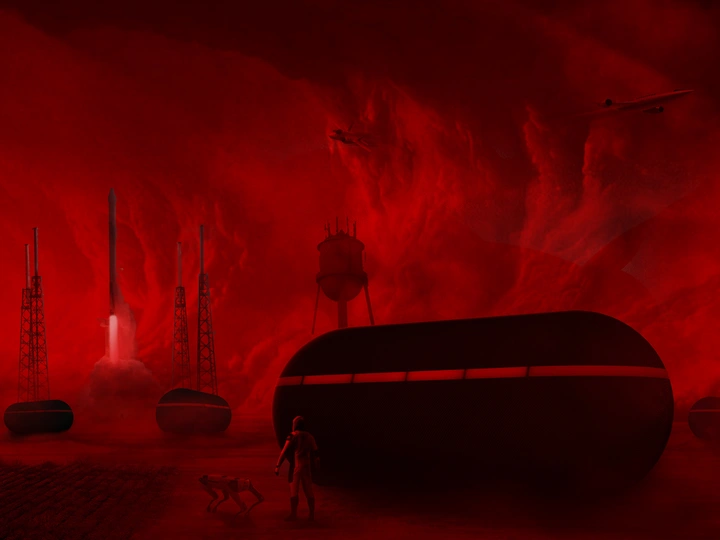 "The Voyager bears the memories of a world that is no more"
---
Alem Hasanović
Jezero Crater, Mars
Links
Field of work
Architecture
Project category
Public space
Project submitted
2022
Student, almost a Bachelor of Architecture at University of Sarajevo. I come from technical background, with prior experience, entering architecture world to build and create. Also with passion for technology, I try to fuse both in interesting but stoic-like way. Sometimes I work in a team, with few colleagues from university and we try to use our ambition and drive in productive ways. 2nd place in DocexDoce2021, Special student award for EcoMicroHouse2021 are some of my notable achievements.
---
The shape of the structure is in the form of a pill, with minimalist material use, in order to achieve the desired futuristic feeling. Slick, durable and robust design enables multi-use of spaces in various enviroments. Roof solar cells provide power, together with methane created from organic waste. Water is collected from air and atmosphere or created on the spot. Air filtration, waste reuse and future technologies ensure survivability in all conditions. Modularity of structure fulfills ever rising need for affordiable housing, espechilally now with climate disaster unfolding. Spaceous bathroom, lift or storage, kitchen and control zone provides space for two people. Modules can be expanded verticaly, adding elevator communication between each. Belly side of "pill" is for battery, resource tanks and mechanical equipment and top side is for storage, hidden away from the plain sight.
All in all, Deus Ex Machina, Pill concept, answers all the questions of sustainability, existing in harsh and deadly enviroment and prolonging survival of humanity. But the real question is, do we want to be on that edge of survival, or change things to the better instantly.
reuse and future technologies ensure survivability in all conditions.