The biophilic redesign of the business premises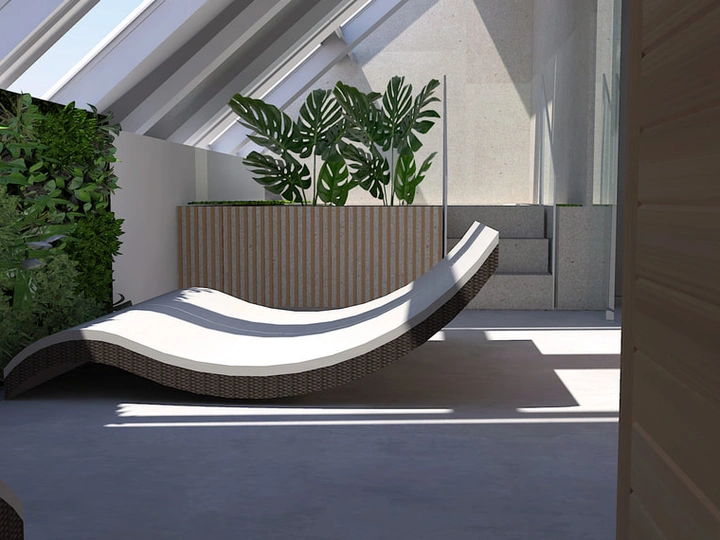 I prepared a conceptual redesign project for the business premises of a garden centre aiming at the horticultural tourism development.
---
Lucija Erjavec Primožič, Inge Kalan Lipar (mentor for the presented project)
Ljubljana, Slovenia
Links
Team members
Lucija Erjavec Primozic
Inge Kalan Lipar
Field of work
Architecture, Design, Visual Art, Communication
Project category
Renovation
Project submitted
2023
My name is Lucija, I come from Slovenia and I hold a MA in Interior Design and MA and Languages and Communications. Prior to studying Interior Design, I worked as a communication and branding consultant in Brussels, London and Ljubljana.
Having grown up in the countryside, a daughter of a forestry engineer and a psychologist, both nature lovers, mountain guides and passionate gardeners, I have developed a very close connection to nature. Living and working in big cities, in a "classic" office environment made me realise how poorly an average work environment serves the basic human needs of movement, fresh air, well-adjusted lighting, basic ergonomics etc. One day, in a Brussels bookshop, I stumbled upon Vincent Callebaut's book "Paris 2050" which sparked my interest in biophilia. Upon returning to Slovenia, I enrolled on an Interior Design programme, focusing on the use of biophilic and sustainable principles in design. In parallel, I started collaborating with some garden centres and landscape architecture businesses as a shipyard producing hybrid and electric vessels a 3D designer & graphic and branding manager.
My main interest and passion remain a holistic sustainable approach to business and design (based on psychological, neuroscientific and design research in the field) and I believe Lina is a platform that could enable me with more relevant skills and a reliable network.
---
According to the principles of bio-design, we arrange the premises in the office building of the garden centre, where the green and bright atmosphere of natural greenery and greenhouses surrounding the building is transferred to existing offices and empty spaces on the first floor and attic. Empty spaces on the first floor are dedicated to the training centre and a small cafe, and in the attic we arrange themed apartments and a small wellness centre. In accordance with the principles of biology, we are also planning to renovate the facade of the building.