Immaterial Architectures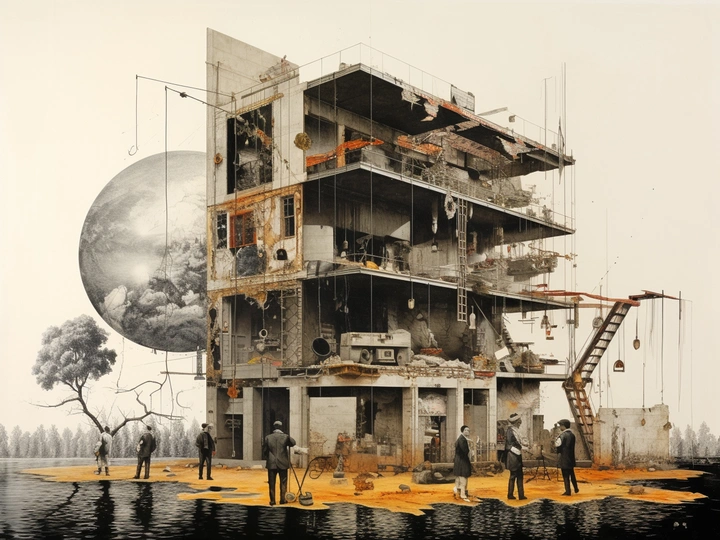 What if the purpose of architecture is not to create buildings? The world is in crisis – can architecture help to find a way out?
---
Máté Hulesch
Budapest, Hungary
Links
Team members
Máté Hulesch
Field of work
Communication, Research, Other
Project category
Urbanity
Project submitted
2023
I am a design culture researcher and architectural writer based in Budapest. Initially I studied architecture, but soon left it and turned to theoretical disciplines. I studied in Budapest, Tallinn, and Amsterdam. Currently I am working as an editor at Építészfórum (Architect's Forum), the largest online architectural magazine in Hungary. As an editor and writer, my focus is on the freshly completed houses, I write architectural critiques of contemporary buildings and theoretical articles dealing with ecological, social and philosophical questions concerning architecture. Besides my own writing, I also organize articles and article series in related topics with renowned professionals. For my work at Építészfórum, I have received the 'Silver Carpenter's Pencil Award' from the Association of Hungarian Architects, an award given by architects to architectural writers.
Besides my work as an editor, I am a doctoral student at the Moholy-Nagy University of Art and Design. My research focus is on conceptual, speculative, critical architecture, with questions regarding the medium of the discipline, investigating both historic and conteporary cases where the outcome of an architectural project is not a building. As a PhD student, I am teaching academic writing for first year BA students and I will hold a course on contemporary architecture theory next semester.
To combine my editorial work and my academic research, I am publishing educational articles in relation to my research, reaching a wider professional and layperson audience.
---
My hypothesis for my research is that architecture is, according to my preferred definition, a design practice that seeks to influence physical and at the same time socio-politico-cultural reality through representations of space. In other words, architecture does not create buildings, but representations, some of which are then manifested in the form of realised buildings. This approach is based on French philosopher Henri Lefebvre's theory of space, who described space as a social product, which is created through a dialectical relationship between representations of space, spaces of representation and spatial practices. If we think of architecture as an activity that creates representations of space, we can see how it interacts with both physical space and social space.
Contemporary speculative architectural projects do not aim to create actual buildings, but rather to play a kind of conceptual, critical role. In order to examine these practices, I have set up a three-dimensional coordinate system along which these projects can be placed. One dimension is the reflective - speculative scale. By this I mean the extent to which a project looks to the future, outlining alternative visions, alternative narratives, or how much it reflects on the reality of the present or the past. The second dimension is the political - autonomous scale. Along this dimension, I examine whether a project explores broad socio-political problems, such as climate change, or whether it turns inwards, towards the internal discourses of architecture. Finally, the third dimension is the material - immaterial scale, as conceptual projects have a material dimension as well, and realised buildings can also have aspects beyond their materiality.
My goal is to test this model through various case studies and develop it further, as I believe it can be a useful tool to understand the role of the discipline in the contemporary situation.