Dancing Columns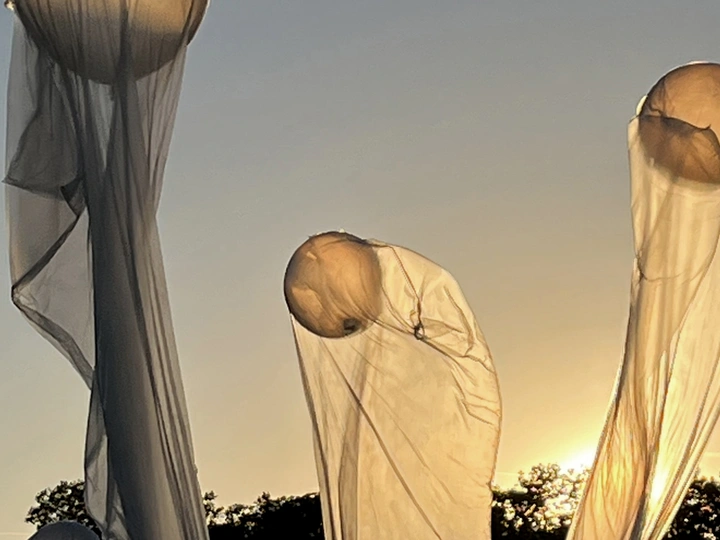 Inspired by the traditionally symbolic Versailles garden, the installation was envisioned to create a singular experience for the visitors.
---
Links
Team members
Francisco Silva
Barbara Stallone
Field of work
Architecture, Design, Visual Art, Curating, Research
Project category
Public space
Project submitted
2023
Everything inspires everything. In each project, EX FIGURA explores every artform for references that can drive the work to its most effective result. Merging art, architecture, design, film and music to generate new realities and combining diverse skills in a dynamic environment, to always inspire the next project.
EX FIGURA brings together multiple sources and integrates them in multi-disciplinary strategies that can better communicate the clients' identity and narrative.
With installations built in Paris, Versailles, Eindhoven, Milan and others, collaborations and diversity are foundational characteristics of the work. Each project is a new opportunity to research different subjects and develop innovative strategies for society.
---
For the éé Versailles Summer School, EX FIGURA designed a performative space for AMA USI Mendrisio.
Lasting for two days, the space was intended as a scenographic background - one that could attract and interact with everyone in the vicinity. Inspired by the traditionally symbolic Versailles garden, the installation was envisioned to create a singular experience for the students and visitors. It took as reference the already present elements, such as the fountains and water mirrors, and reinterpreted them for this specific event.
"Dancing Columns" was the product of this initiative, creating a total of eight pillars that moved along with the wind. Similar to the fountain water jet in the center of the "Potager du Roi", the objects embodied the motion of every natural element around and established an ephemeral structure that never stopped moving.
The skin of the columns, made of a very light plastic, was stretched and lifted by 0.5m3 of helium. The softness and malleability of all the materials made it sensitive to weather conditions - similar to every other element in the garden. For every gust of wind, the columns would move in a particular direction and, located among the diverse vegetation of the site, each one of them would respond differently at a given time. Depending on the humidity of the air, everything would move slower and the temperature would also affect the resistance of the helium.
Architecture here was thought as an interactive experience, with each person developing a singular relationship with a column. Every moment was unique, each required the public to position itself according to the column. Even its transparency played a particular role in the performance, enhancing the sunlight to create unique shades of color and materiality - sometimes more transparent, others more opaque
For a limited time, the personal and social experience of the students and visitors became the subject of the "Dancing Columns'" design.