(Un)Safe place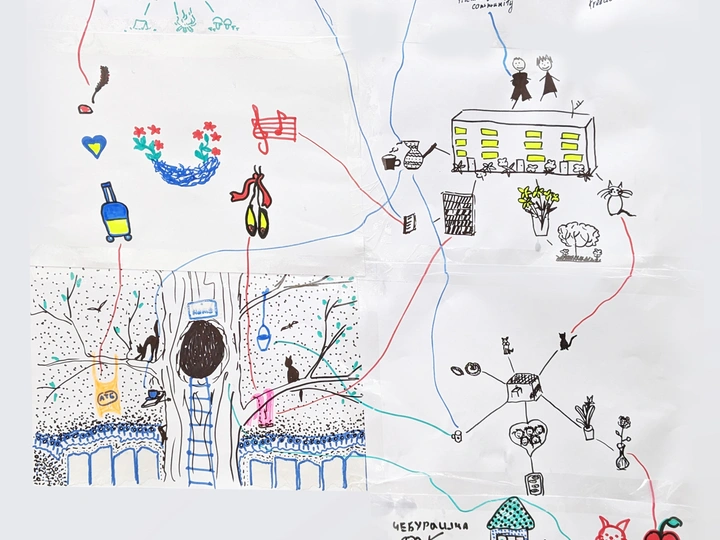 Reflections on what home is. How does a person distinguish their home, the place of their heart, from a place where they just sleep?
---
Nadiia Velychko
Ukraine, Kharkiv-Lviv
Links
Team members
Nadiia Velychko
Field of work
Design, Visual Art, Multimedia, Curating, Research
Project category
Sustainable mobility
Project submitted
2023
I am a visual artist, PhD, a graphic designer and a lecturer from Kharkiv.
Art for me is a universal language of communication and research, which has no borders and is understood in any country. It is especially important to raise social topics for discussion, to emotionally involve the viewer. Until 2022, she worked mainly on environmental issues. But since the beginning of Russia's full-scale invasion of Ukraine, I have been focusing on issues of postcolonialism and national identity.
I use photography, collage and ceramics as my medium. Collage is good for talking about socially issues, because collage is a technique that focuses on finding a context, finding a place for each part of the whole. Now I would like to develop towards installation work, combining elements of natural materials, photography, collage and ceramics into spatial compositions.
Exhibitions and Awards
2015 VIII International Triennial of Eco-Poster "The 4th Block", Ukraine
2016 "Chernobyl 30, Fukushima 5", co-curator, Ukraine
2017 "Vilcha. Resettled Village", personal phohto exhibition, Ukraine
2018 "International Competition COW DESIGN BIENNALE", Ukraine, TOP-10
2018 "International theater and design festival "Zhyvy", Ukraine, jury selection
2019 "Inclusive Artbook Design", Ukraine, Grand Prix
2021 "Align the paths of his spirit", 3D-poster exhibition curator, Ukraine-USA
2022 "Noc Muzeów w Biały Dzień", Poland
2022 "pARTner", Austria
2022 "So far, so close", Israel
2022 "Intrusion", co-curator, Israel
2023 "Jetzt", co-curator, Germany
2023 "War Time Graphics: Love. Freedom", USA
2023 "Navigation" Ukraine
Residencies
2022 Pogranicza foundation, Sejny, Poland
2022 Polish Sculpture Center, Oronsko, Poland
2022 Villa Muller, Feldkirch, Austria,
2022 JAR, Tel Aviv, Israel
2023 Kuenstlergut Proesitz, Germany
2023 Art Jam Factory, Lviv, Ukraine
2023 Cultural Residence, Lviv, Ukraine
---
I was born in Donbas. This is a part of Ukraine that has been occupied by Russia for 9 years. Before Russia's full-scale invasion of Ukraine my creative practices were focused on poster design and photography. The theme of my work was ecology and environmental protection. But the morning of February 24 changed my entire life, including the subject matter of my work. Now my main artistic practice is related to documentation and artistic reflection on the war in Ukraine and the topic of refugees. I believe that it is important to rethink the experience of war, to convey the emotional experience of war to a wide audience.
The large number of moves and changes of residence in recent years also encourages me to explore the phenomen of home as a place with which one feels a spiritual connection. I study how the connection between the living and the inanimate is formed, what value things and places have for a person. I am collecting interviews with different people and different views on this issue, both from people who have lost their homes and from those who do not feel threatened by their loss. I would also like to explore this topic more deeply in a safe place and plan and possibly partially implement a project that will be built on this search for home.
When I was in residence in Europe, I was deeply impressed by the living environment. It was very noticeable that people here have been living in the same house for generations, that the whole town is part of a single common heritage of all the residents, which they are ready to pass on to their descendants. This is in stark contrast to the situation in Ukraine. Due to revolutions, wars, uprisings, and the USSR's policy of resettling peoples, none of the people I know have lived in the same place for even a generation. I have had to change my place of residence three times in my life, and this is not a unique situation. This shapes a completely different attitude to the environment, from the tree to the city.