Cool(ing) factors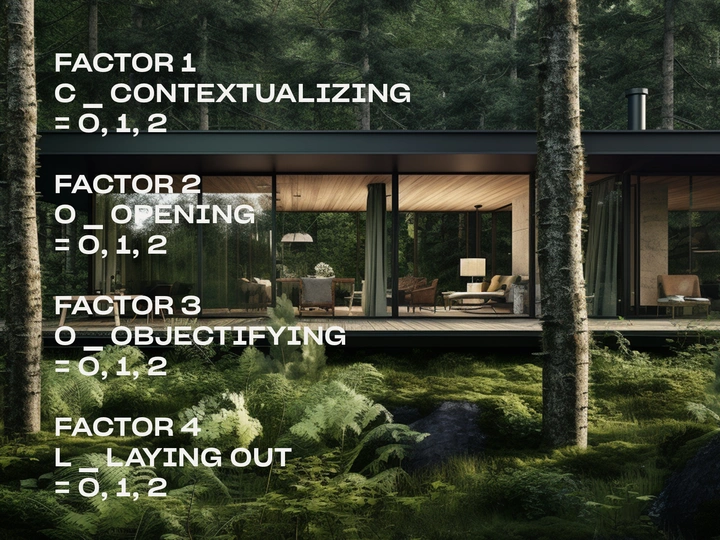 An experimental user-friendly and playful tool to facilitate discussions on the sustainability of design during early stages of architectural design
---
Urh Rucigaj Roberts
Ljubljana, Slovenia
Links
Team members
Urh Rucigaj Roberts
Field of work
Architecture
Project category
Raising awareness
Project submitted
2023
I am a Slovene native, and I have lived around the world. I was educated in Slovenia (FAUL, mag.inž.arh. '10-'17), Venice (IUAV, Villard '14), Norway (BAS, NFM exchange '15) and London (AA, PGDip '20-'21). I am a registered Architect in the UK with the ARB and in Slovenia with ZAPS. I have worked across Slovenia, New Zealand, the UK, and (most recently) I have relocated to Slovenia where I have been working on projects in Slovenia, across EU (Switzerland, France, Hungary) and the UK.
Setting up as Freelance Architect Consultant, I have also focused on sustainable residential design. I have set up a collaborative studio named PDNBN with several ongoing projects at various stages and encompassing collaborative work by individuals who have all worked across various countries, we strive to give the client a transparent process with as much inclusion as possible. In our approach, we actively engage clients and stakeholders in the architectural design and construction process, and with this aim to break the status quo of the Architects' untouchable persona. By crafting sustainable living environments and fostering a culture of transparency and inclusivity in designing our users' most intimate spaces, we strive to demonstrate alternative rhetoric of a more holistic sustainability.
---
Do we, Architects as professionals, possess the necessary skills to effectively communicate about sustainability amonth ourselves and with clients?
Building on research gained during establishing Slovene Architects Declare Climate Emergency in 2020, PDNBN has developed an experimental user-friendly and playful tool to facilitate discussions on the sustainability aspects of a design during the early stages of architectural design.
The framework establishes a robust enough system to cope with future evolving demands of sustainable design and the urgent challenges posed by the progressing climate crisis. Moreover, the proposed framework does not advocate for a complete departure from existing architectural thinking, or replace the established certification standards. Instead, it organizes and categorizes the various aspects of design thinking and Architects' knowledge into a framework that enables the comparison of different elements during the conceptualization phase.
The framework comprises four factors, each assigned a straightforward appraisal mark of 0, 1, or 2, where 2 represents the highest level. These marks are accompanied by detailed descriptions for each factor during the appraisal process, ensuring a comprehensive evaluation of each aspect within the framework. By acknowledging that design elements can contribute to multiple factors simultaneously, we emphasize the interconnectedness and interdependence of various sustainable design considerations - in fact, such overlap is encouraged.
Each factor in the framework corresponds to a letter, collectively spelling the word "COOL." This approach has been adopted to facilitate ease of memorization and enhance the client's understanding and engagement with the complex information. The approach is lighthearted to mitigate the seriousness often associated with these topics, thereby increasing their appeal for consideration