Rethinking the Coast in the Face of Climate Change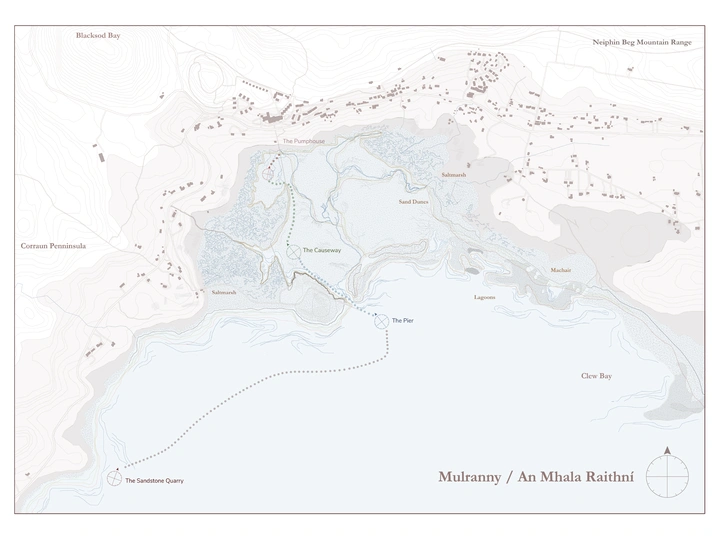 "rethinking the coastal edge in the face of climate change" Ongoing interdisciplinary research-through-design PhD Location : Mulranny, Co.Mayo
---
Helen McFadden
Dublin / Limerick / Mayo, Ireland
Links
Team members
Helen McFadden
Field of work
Architecture, Design, Landscape architecture, Ecology, Research
Project category
Raising awareness
Project submitted
2023
Academia
PhD Candidate and Sustainability Scholar - University of Limerick
Masters in Architecture, SABE Technological University Dublin
BSc Architecture, SABE Technological University Dublin
Practice
REIR Studio: September 2022 - June 2023
TAKA Architects: May 2021 - October 2021
A2 Architects: January 2020 - October 2020
ODOS Architects: June 2019 - January 2019
AXO Architects: Summer Intern 2014 - 2018
Working Groups
IAF Graduate Panel
Interests / Roles
Through engagement with academia and practice, I am interested in following particular interests in research-through-design, landscapes, culture, the climate, drawing and representation, literature, writing and photography.
Achievements
Sustainability Scholarship, School of Design at the University of Limerick
Arts Council of Ireland Residency Recipient: Cowhouse Studios
RIAI Sustainable Design Award (M.Arch)
M.Arch Sir Richard Morrison Scholarship -TU Dublin
RIAI Sustainable Design Award (B.Arch)
B.Arch Sir Richard Morrison Scholarship -TU Dublin
All Ireland Pramerica Spirit of Community Award 2016
Publications / Exhibitions
"Coast : Where things overflow the brim of the usual" Architecture Ireland Journal
"Cultivate : A Village Vision for Rathnure" Cowhouse Studios, Workhouse Union, Alice Bowler, Aideen O'Donovan, Lara Clifford
"Design Thinking for Ecological Futures: A Construing and Constructing of Time" All Ireland Architectural Research Group
"On Complex Ordinariness" M.Arch Thesis
"Architecture of Creative Learning" Irish Pavilion EXPO Dubai, REIR Studio
"DSA LINE", Online and Physical School Publications
---
PhD Developing M.Arch Thesis
The future of our coast is hanging in the balance. It has become culturally and physically estranged. Climate change is pushing wetlands out of sync with old-world infrastructural assemblies. Sea level rise is surpassing the 'accretion' levels of saltmarshes and they are 'drowning'. Wetlands holding 40% of the world's ecosystems are tumbling. Saltmarshes are turning to mudflats before disappearing below waters of expanding bays. The sea's weight and force are causing fibrous breakdowns of sub-surfaces, releasing millions of tonnes of sequestered carbon into the atmosphere. Ireland alone has lost 75% of its coastal wetlands- we can lose no more. The wetlands must be realigned. The longer we wait the more difficult it becomes. However, rather than 'quick fix' interventions we need instead to 'build' to facilitate something further – to balance cultural needs with the objective of creating a thriving biosphere.
Through interdisciplinary lenses such as ecology, geography, history, social-policy, cultural studies, engineering, and architecture I am exploring how ethical design-thinking can be used to intervene in the evolution of landscapes. Building on my M.Arch work I am using research-by-design techniques such as writing, drawing, mapping, modelling, and focus groups/workshops with communities, local governance, engineers and scientists to consider how alternative coastal protections measures could provide new cultural spatial forms and experiences which, in performing their function, would respond to climate change. These studies have prompted explorations into how re-futuring or 'Climate Registering' pieces of 'Material Culture' such as the old-world coastal infrastructure assemblies of the past could impact and help meet cultural and decarbonisation objectives of the future. In the context of artifacts of an infrastructural revolution, I wish to shift our focus forward to today's call for an environmental evolution.