Context of a Circular Economy: Irish Architecture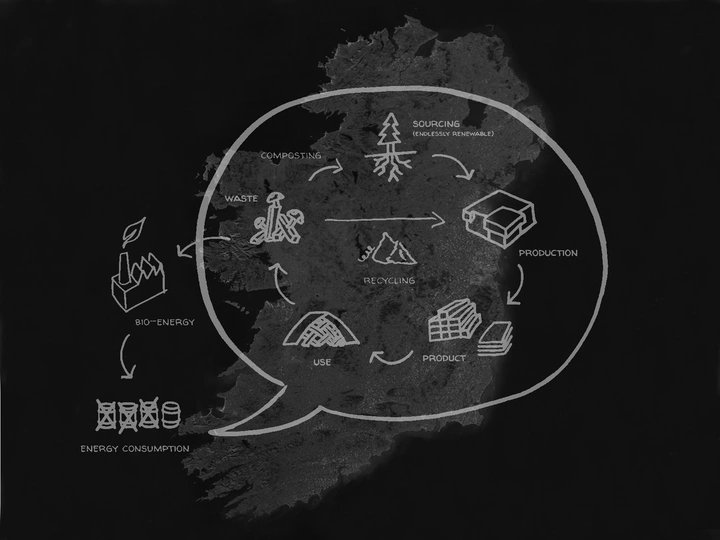 There is an opportunity to redefine the role of an architect in the whole lifecycle of a building – from conception to construction to disassembly.
---
Brian Hand
Dublin, Ireland
Links
Team members
Brian Hand
Field of work
Architecture, Research
Project category
Material tracking and reuse
Project submitted
2023
- Completed the Masters in Architecture with Distinction from University College Cork, 2021. Project titled 'Sojourning [Sub]alternated Schizophrenias,' read the island landscape through its existing pre-Christian and Christian era structures to reveal post-Christian sites, unearthing latent geometries of the island body through a lens of literary, historical and philosophical thinking.
- Previous work experience in Amsterdam, the Netherlands, worked between Allard Architecture and Elephant Studio.
- Currently working as an Architectural Graduate for the Office of Public Works (OPW).
- Awarded Distinction in BSc Degree in BIM (Digital Construction) at TU Dublin, 2023.
- Currently enrolled in TU Dublin's Professional Diploma Architectural Practice.
- Presented at the A-IARG Annual Conference, 'Architecture and its Stories' under 'Place in Artistic Practice,' 2022. + 'Its Not Too Late: Design Thinking for Ecological Futures' under 'New Technologies,' 2023.
- Longlisted for the World Architecture Prize in the 'Digital Drawing' category.
- Strong academic interest in spatial theory and application.
---
Construction is a carbon-emissive heavy industry with approximately 40% of global pollution and waste production being accredited to the industry. This requires a systemic re-evaluation of global material streams from a linear model towards a Circular Economy.
The implementation of material passports is deemed an integral part of adopting Circular Economy principles into the design, construction, and disassembly of the built environment. As such, designers need to be able to access and utilise material passports to optimise the design process and document the material and product use. The Material Passport offers design optimisation, design analysis and documentation parameters hosting both quantitative and qualitative information.
The research assesses the current expectations from the Irish Government towards the circular economy in recent publications such as the Circular Economy Act and the National Policy on Architecture, as well as the Office of Public Works position in enabling it, and how it can be implemented through the use of BIM. Furthermore, the research will examine what a material passport is and how it aids this transition toward a circular economy.
This is assessed through three case study projects that discuss integrating the material passport into all stages of an architectural project (both public and private). Ranging from early design stage to construction completion to end-of-life, the case studies offer a comparative of the full lifecycle of a building. The three case studies each offer a workflow that confirm a basic approach to producing the document, while differing in what sustainable parameters are appropriate, indicative of where the studies are situated in the project stage and by what the authors deem valuable.