Aigua Assedegada [Thirsty Water]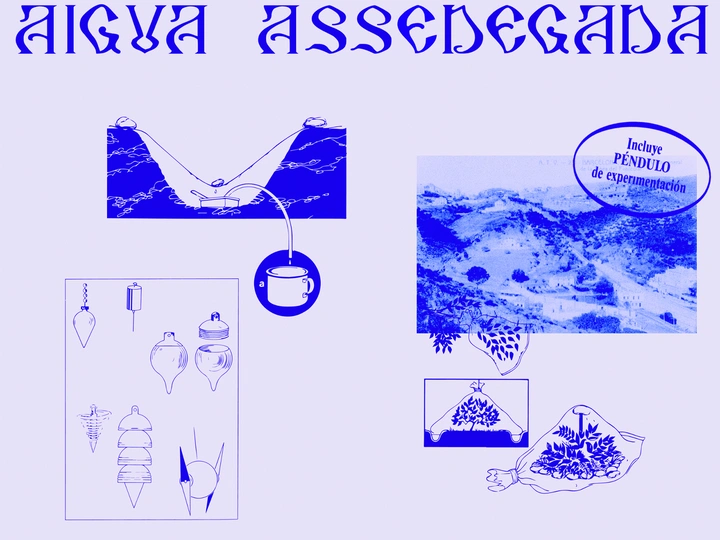 It is an itinerant learning and research community and elastic platform where to put into practice and recover strategies of invoking water to come.
---
Aigua Assedegada [Thirsty Water]
Barcelona, Spain
Links
Team members
Alba Acebes
Martí Cabanas
Ignacio de Antonio Antón
Pol Julià
Field of work
Architecture, Design, Ecology, Curating, Research
Project category
Raising awareness
Project submitted
2023
Ignacio de Antonio Antón: Researcher, architect and artist. PhD in Art History, Research and Education, by the UCLM, with an FPI contract. Architect by the
ETSAM-UPM, Madrid; Master in Performance Studies - New York University, with a Fulbright scholarship, and Master in Ecenic Practice and Visual Culture - UCLM/MNCARS. The processes he develops are research-based practices, focused on critical spatial practices. His work focuses on the modes and conditions
on the modes and conditions of production and representation in art. Her latest investigations are performative devices on states of exception.
Alba Acebes: Graphic designer, illustrator and visual artist. She creates, draws and writes to understand and understand herself. She likes to use art and design to talk about things. She makes fanzines and has a microeditorial with her friend Berta with which they have gone to places like the DesignMarket or the MAB Fair.
Martí Cabanas: His studies began with a specialization in industrial product design, and later opened up and expanded. Thus molding a versatile profile, eager to work through the diffuse space between those known spaces, especially in themes close to the landscape and narrative. He has worked on social projects for IKEA, or in transdisciplinary design studios such as OVICUO. His relationship with the natural environment arose from his teenage years, as a semi-professional athlete, when he spent many hours walking through and inhabiting the Parc de Sant Llorenç del Munt i l'Obac.
Pol Julià: Coming from a ruralized environment, he designs and creates from a position of estrangement and questioning towards design itself and the social customs that surround it.
---
Aigua Assedegada is water that wants more water, it is a thirsty invocation and a wait that lends itself to intensely inhabit the plumbing systems of the Collserola Park. To call is an in-vocation, to call is to summon, to be called and to visit.
Aigua Assedegada [Thirsty Water] is an itinerant learning and research community, starting on the 2023 fall, a mobile and elastic platform where to put into practice and recover strategies and ways of making water come. Learning flows, and in a world of scarcity, invoking it - also among ourselves - is an urgent task.
From this urgency arise a series of activities in the form of workshops -sedientos- that intend to find in the search for water a space of coexistence and itinerant teaching, creating a route through the less crowded fountains of the park.
If we think that curious visits (Haraway) requires the ability to find others actively interesting, calling on the water is an opportunity to cultivate curiosity and generate gushes of knowledge.
From design and critical studies, through a series of four meetings we propose to develop a series of objects, situations and learning around the invocation of water. Re-knowing ways of finding it, of co-relating with it, going through the technical and empirical knowledge, attending to the traditional ways of searching, locating and storing, and investigating other ways of producing estrangement in a wet look, a vocabulary that drips, a grammar that seeps.
The workshops seek to have a cumulative character, absorbing in each session those discoveries obtained in the previous ones. Making them flow. Making this flow capable of unraveling the brutal problems related to water. Doing it through thinking, listening and waiting, stalking the discovery.
The project aims not only to reflect, but also to generate: objects, learning and situations.