The Wild Deal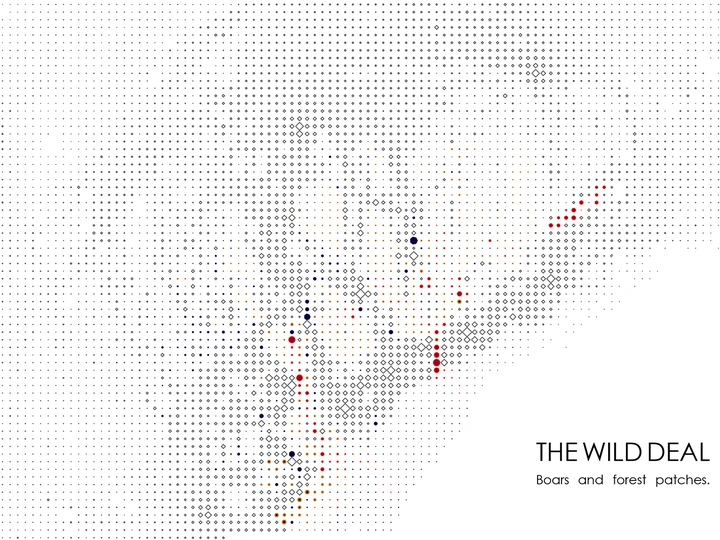 Cohabitation of wild boars and people in Barcelona
---
Reda Petravičiūtė and Christos Grapas
Vilnius, Lithuania; Athens, Greece
Links
Team members
Christos Grapas
Field of work
Urban planning, Ecology, Research
Project category
Rural spaces
Project submitted
2023
I am a multidisciplinary researcher working at the intersection of data, computational, and city science. I hold master's degrees in Urban Planning from Vilnius Tech University and in "City and Technology" in Institute of Advanced Architecture Catalonia. My primary interests lie in the convergence of design, sustainability, and technological innovation. I am proud to be recognized as a Mies van den Rohe Young Talent Award nominee (2023), the Best Master of Architecture graduate of the Baltic States (2021), and a recipient of the ESRI Young Scientist Award (2021).
Currently, my research focuses on seeking policy and spatial solutions for various topics, including digital CO2 emissions and their impact on cities, cohabitation with wildlife in urban areas, upcycling of concrete and CO2 reduction. I have been involved in several intriguing projects, collaborating with Vilnius City Municipality and conducting work in locations such as Singapore and Shenzhen.
As an architect and urban scientist, I am continuously enhancing my research efforts with AI and machine learning, incorporating these cutting-edge technologies to further explore and address complex urban challenges.
---
With urban and peri-urban areas in Europe increasingly experiencing conflicts due to the synurbanisation of boars, traditional control strategies like hunts and trapping are proving insufficient. Barcelona recorded over 1200 boar incidents in 2021, underscoring the urgent need for effective solutions. To this end, we propose rewilding landscapes and creating wildlife corridors in Barcelona's outskirts, promoting harmonious coexistence between humans and boars.
Our plan involves four key strategies:
Wildlife Management: Prioritise key wildlife corridors, focusing on river streams, for sustainable boar movement.
Permaculture Strategy: Allocate existing agricultural fields for seasonal boar use, boosting soil quality for future crops and acting as buffers around wildlife corridors.
Landscape Elements: Minimise human-boar conflicts by guiding boar movement strategically in populated areas.
Wildlife Crossings: Install crossings dedicated to boars to safely separate human and boar flows.
Our project identifies four major connectivity corridors, centred on the Llobregat river corridor. It involves transforming a roadway underpass into a secure passage, featuring a timber bridge made of natural materials for boars to cross safely. The bridge will incorporate gardens for rainwater storage, fostering a sustainable ecosystem. Seasonal control of agricultural areas will enable the community to regulate crop protection and boar access based on soil conditions. Mixed reforestation and growth control enhance biodiversity and ecological balance.
Our approach challenges anthropocentric views, advocating cohabitation that recognises the boar's role in soil regeneration and ecosystem enhancement. Rewilding corridors and granting boars equal rights create a balanced environment beneficial to both humans and wildlife.