Composing the eco-acoustic city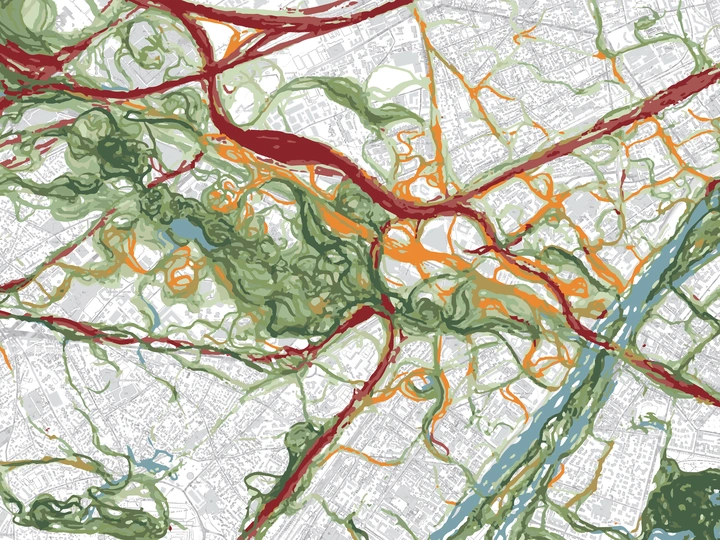 White infrastructure: a crucial tool for inclusive and ecological city design - The case of Paris La Defense, a modern district in dissonance
---
Sara El Samman
Paris, France
Links
Team members
Sara El Samman
Field of work
Design, Landscape architecture, Ecology, Visual Art, Research
Project category
Public space
Project submitted
2023
I am a Lebanese landscape architect and multi-disciplinary artist based in Paris, currently working at AXP Urbicus in Versailles while pursuing my research in acoustic design and my artistic career. I hold bachelor degrees in landscape architecture and agricultural engineering from the American University of Beirut and a masters degree in landscape design from ESAJ in Paris.
During my studies, I developed the concept of the white/acoustic infrastructure, earning the jury's award and a recognition from the Federation Française du Paysage (FFP). I was invited as a guest speaker to share my research on sonic urbanism at ENSAP Bordeaux's soundscape workshop and at LPO's U2B conference titled "Trames noire et blanche." I also participated in a conference at Autonomous University of Madrid (UAM) on "Landscape and Sustainability: Listening to Multiplicity."
In my artistic pursuits, I collaborated with Budhaditya Chattopadhyay, creating soundwave illustrations for his book "The Nomadic Listener." I also worked on a series of soundscape illustrations named "The Ecotones," translating the music of soundscapes into spatial notation. These illustrations were featured in the 3rd publication of CAP, the CEC (Convention des Entreprises pour le Climat)'s magazine.
In addition to that, I engaged in sound art workshops with renowned artists like Brandon Labelle, which further ignited my passion for sound art. Additionally, my interest in spatial practices in art led me to design a virtual exhibition with the Beirut Art Center during the 2020 pandemic, showcasing works by local emerging talents.
Furthermore, I had the opportunity to contribute as a production assistant to Budhaditya Chattopadhyay's latest installation, "Dhavi," in Paris, which deepened my passion to converge my multidimensional interests: the visual, the sonic, the spatial, and the social where i am always looking for opportunities to explore the interplay between the visual and the acoustic.
---
I've always been sensitive to the music of surrounding landscapes, intrigued by its impact on all beings, human and non-human alike. My first step towards elaborating this relationship was during my master's thesis, where I delved into soundscape and acoustic ecology. I aimed to understand the responsibility of landscape architects in conducting soundscapes, and to demystify the traditionally abstract sonic approach. My goal was to make sound tangible to use as a tool in the design process.
Soundscapes affect the well-being of all city inhabitants, both human and non-human. A sonic approach to urbanism, considering soundscape as an ecological infrastructure, can help forecast ecological quality. My project develops the concept of white infrastructure, la trame blanche, to facilitate the integration of acoustic space within the visual world of the green and blue infrastructure. The latter adds a sensory dimension, connecting landscape design and soundscape composition.
My work consists of theoretical research and site surveys, using Paris La Defense, as a case study. Sound maps were created through soundwalks and recordings, leading to a white infrastructure strategy to be developed. The notion of flows and interactions as components of the public realm allowed for acoustic continuities to be analyzed. As a result, soundscape design steps were integrated within the main phases of the traditional design process: inventory, analysis, concept development and detailed project design.
Embracing an unconventional dimension in the field, I faced challenges and initially little academic support. However, the overwhelming positive feedback my work ended up receiving underscored the need for this sensory framework for designing sustainable non-anthropocentric cities. I aim to evolve the notion of white infrastructure and experiment more with it. I seek to understand how the interplay of space, people, and soundwaves shapes places and defines comfort in public space.