The Unofficial Narrative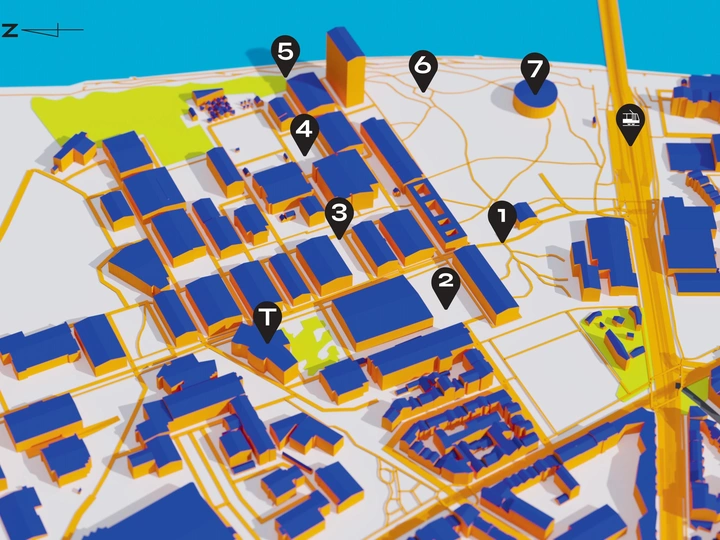 How can built space serve as a tool to challenge the power structures by amplifying the counter-narratives in institutionalized spaces?
---
Unofficial Hiking Society
Basel, Switzerland
Links
Team members
Ozan Güngör
Cathrin Schöberl
Emily Mary Whitaker
Field of work
Architecture, Urban planning, Multimedia, Communication, Research
Project category
Public space
Project submitted
2023
The Unofficial Hiking Society AG is an organic art collective based in Basel, Switzerland. The Society AG relies on hikes as a physical and digital engagement as a means of exploration and knowledge building. We organize unofficial guided tours providing critical information and counter-narratives on issues such as capitalism, neoliberalism, and feminism. In this context, the "unofficial" stands for a resistance to adhere to economic norms, according to conformity, over-organization and for simply appropriating the spaces that surround us by offering our tours without registration to authorities. With changing members and themes, the collective aims to explore and reflect on public space and its inherent exclusionary structures towards certain groups and communities. The focus is on spaces that are often considered semi-public, such as company buildings, private corporate organizations, or government sectors. We are thinking not only of physical spaces but also concepts such as the military, lobbying and access to information that is accessible but closed off due to the sheer volume, time and energy it would take to engage with it. As a platform for research and reflection on the public sphere, the project creates opportunities to critically engage with such half-hidden-half-public worlds.
Catherin Schöberl (none/she), born 1994 in Germany, is an artist and educator based in Basel, Switzerland. C graduated from the University of Cologne and the Academy of Art and Design Basel, and has attended courses at University Basel, ZHDK Zurich and HDK-Valand, Gothenburg.
Emily Mary Whitaker (she/her) is an American biologist and activist who lives in Basel. She graduated from the University of Edinburgh with a BSc in immunology and an MSc in health policy.
Ozan Güngör (he/him) is a Turkish architect, designer and researcher based in Basel. He studied architectural restoration, interior architecture and experimental design and currently working as a researcher at FHNW.
---
The Unofficial Hiking Society is started by Catherin and Emily, in early 2023. They realized their first intervention at the Novartis Campus which was recently opened to the public in the framework of Gira Furiosa in Basel. They organized this unofficial guided tour to provide critical information and counter-narratives on capitalism, neo-liberalism and feminism which are entangled in the history of this institutional space. Soon after Ozan joined the collective after getting aware of the Unofficial Hiking Society while he was researching and writing on Counter-Spatial Practices.
The group is planning their next intervention named 'Unofficial Kunstmuseum' in Basel. In their pursuit of highlighting the untold and hidden narratives, the collective is asking the questions like, 'who is this space for?', 'who is excluded from it?', 'who is not represented here?', 'can we call it a public space if you have to pay to visit it?'. Their second intervention 'Unofficial Kunstmuseum', is utilizing digital tools like Google Maps' review section, their aim is to leverage the grey area, a virtual no man's land, where digital and physical spaces intersect and institutional borders merge into each other. With this intervention, the collective is aiming to contextualize space as a tool of 'cultural hegemony' (Gramsci & Forgacs, 2000) rather than a neutral container or a mere backdrop of our daily activities.
In response to Lina Open Call, UHS aspires to expand their theory and practice. By forming collaborations with other institutions and communities, they aim to establish spatial activism as a form of care, resistance, reshaping, and sharing. UHS envisions this taking multiple forms, including events, workshops, exhibitions, interventions and writing, all serving to challenge and transform our understanding of space and its role in society.