Costa del Sprawl Pavilion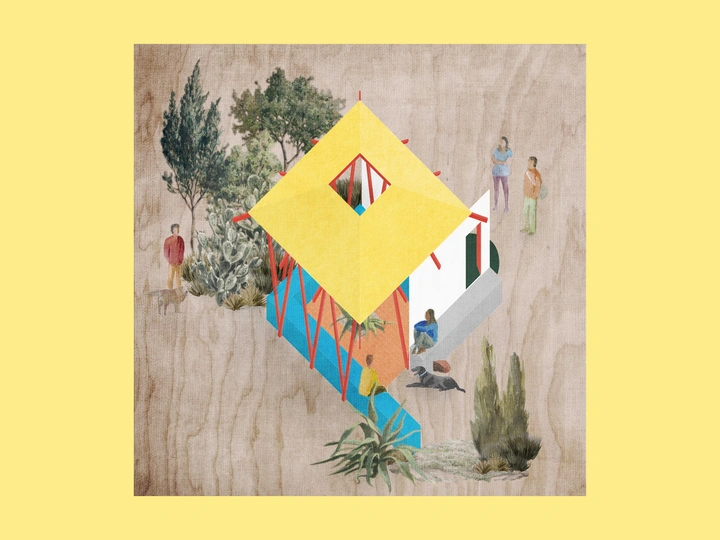 The Costa del Sprawl Pavilion is a small step towards the legitimisation of informal spaces that mark the edge of the Costa del Sol's suburban sprawl
---
Sam Eadington
Berlin, Germany
Links
Team members
Sam Eadington
Field of work
Architecture, Design, Ecology, Visual Art
Project category
Raising awareness
Project submitted
2023
Sam Eadington is a Co-Founder of Estudio ESSE, a contextually situated practice that revolves around hands-on making, 1:1 scale experimentation and community engagement. He utilises live-build, model-making and drawing to respond to place and material cultures of people. He is currently formulating a body of research and work focusing on "ethnographic model-making" as both a methodology and artistic output within architecture, migrancy research and community participation.
Sam is a guest critic and tutor at the University of Central Lancashire in the UK. His architectural pedagogy is based on his experience and principles of thinking-through-making, inspiring students to go beyond conventional paths of architectural production and placemaking.
His live-action and design projects include the Costa del Sprawl Research and Pavilion in Malaga, Spain, an on-going research project started in 2016 and was nominated for Das Erste Haus Prize and published in Bauwelt Magazine.
The renovation of Cove Cottage in 2020 was shown at Romanian Design Week in Bucharest and was published in the national design press.
More recently, he collaborated on an artistic residence at Urban Nation Museum in Berlin looking at the Romanian diaspora in the city, using paper models to document, explore and celebrate the spaces and material culture of this community.
---
Were it not for the financial crash, the sprawl of speculative construction would have continued to consume the landscape of the Costa del Sol. Alongside the scattering of gated communities that cover the hills rising up from the Mediterranean are concrete relics that make tangible the moment the bubble burst. An edge condition that appears at first to be one of abandonment but after closer observation reveals itself to be a setting for slow, subtle subversion of the ideals that initially brought about the situation. Nature works its way back over the concrete slabs that were set to host dream holiday homes, refusing to accept its previous destiny as commodity for consumption. Dogs and their owners enjoy the freedom and informality that cannot be found within the fences that wrap their apartment blocks.
When arriving to the Costa del Sol by plane the aerial view highlights a key element of the area's self image; the swimming pool. These suggestive blue dots are much more than a place to cool oneself on a hot summer day, they are resource thirsty and ecologically destructive symbols of leisure and desire, an expression the lifestyle one wishes to be seen to be leading, arenas for all manner of social interaction. The pool as a potent image and place for gathering was therefore the starting point for the pavilion's design, transplanted from its usual context of verdant, highly maintained, securely enclosed gardens, and placed in another of disregard, entropy and latency. This provocative installation references and condenses both the immediate and wider cultural contexts into a practical structure which enriches the rhythms and experiences of the terrain vague, offering but a single potential model for engagement with the suburban periphery; an overlooked but crucial territory to be considered if our built environment is to rise to the urgent social and environmental challenges it faces.