FLEURs Giardini degli inerti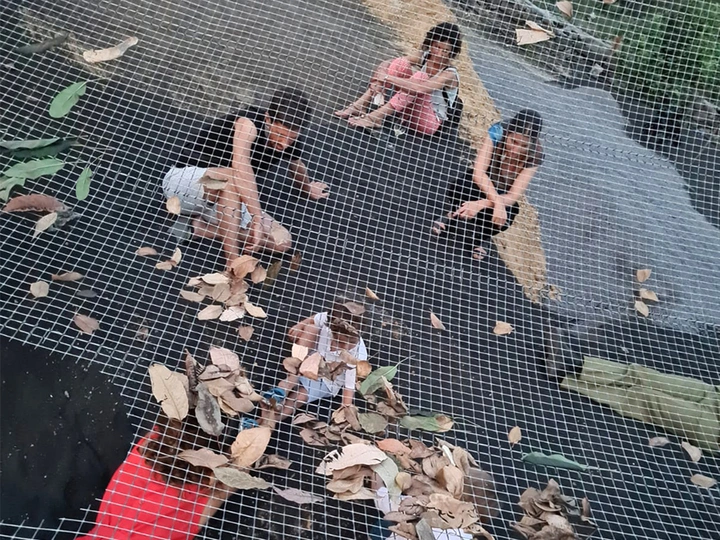 Generated from the waste produced by the trees, the garden is an iridescent temporary apparition, where the leaves captured becomes a fragile blanket.
---
Prestini//Ricupero
Fondazione Radicepura, via Fogazzaro 19, Giarre CT, Italy
Links
Team members
Marialuisa Prestini
Giuseppe Ricupero
Field of work
Architecture, Landscape architecture, Research
Project category
Raising awareness
Project submitted
2022
Prestini//Ricupero is an independent architectural studio. Giuseppe Ricupero is an architect and PhD student at Iuav University of Venice. Marialuisa Prestini is an architect at Atelier Peter Zumthor. They work on projects on different scales of installation design in environments related to contemporary art and architecture, from domestic to landscape. Their interventions include participatory and immersive devices with the aim of redefining the relationship with the existing heritage.
---
FLEURs Giardini degli inerti rethinks the garden as an allegory of the relationship between man and the environment, between purpose and futility. Generated from the waste that is cyclically produced by the trees -real monumental buildings- the garden is an iridescent temporary apparition, a 'room' removed from the undergrowth where the leaves captured become a fragile cover, a pact therefore between nature and its inhabitants. The micro-environment created by a capturing accessory -the net- begins the formation of a space that takes its lesson from the adherence of the leaves to the ground. Although the garden takes its shape from a hunting trap, it significantly changes its purpose; its proportions and heights allow access only to children or those who, like them, experiment and conquer ever-changing forms of access, so as to ward off already compromised and tired gazes.
Through a reduction in scale, the garden, made of mineral and vegetable waste, becomes a place to prototype new interactions between the environment and human exercise, inviting us to rethink the disciplines and motives that design the environment. Responsibility and play mingle in this synthetic representation of the earth; they encourage young users, like children and like the wind, to move the dunes and become familiar with the life cycle of matter and intentions.
Emphasising the role of the model and the availability of the land as a laboratory, this small pavilion collects landscapes and presents a few primitive plant species with a monstrous appearance, a reminder of a relationship with the natural that is not always domesticated, inviting us to evaluate the singularity of each specimen; it is a landscape exercise, a collective "pulverisation" site, a multilayer that alludes to recycling and second possibilities. The traces and interaction of these different landscapes -mineral, vegetable, marine, undergrowth- overlap and often merge to become a new form of the possible.