Spaceplanning.app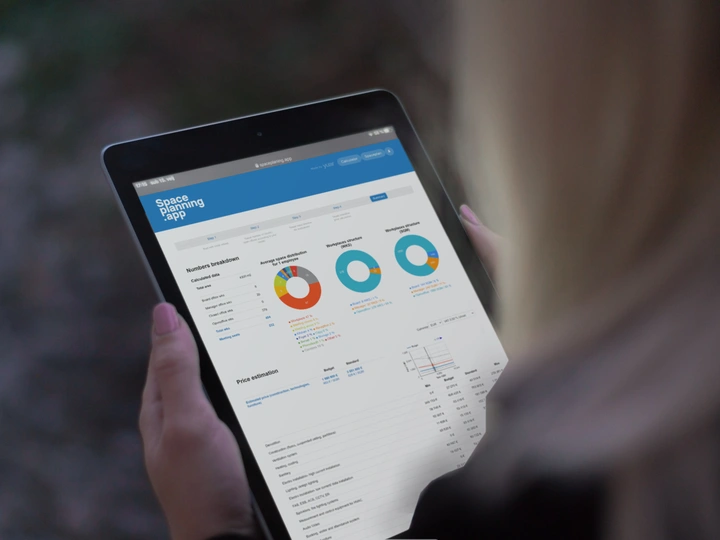 Spaceplanning.app calculator provides an overview of workplace structure, estimated investment costs & detailed timelines to successfully plan offices
---
Spaceplanning.app
Prague, Czech Republic
Links
Team members
Lukáš Janáč
Tomáš Livňanský
Noor Marji
Gregory Speck
Field of work
Architecture, Design, Urban planning
Project category
Material tracking and reuse
Project submitted
2022
An international team of multidisciplinary creatives focused on delivering innovative office and corporate spaces, backed by a highly efficient project management. Our core business is offices and corporate design.
---
Spaceplanning.app online calculator provides an overview of workplace structure, estimated investment costs & timelines to successfully plan offices.
Spaceplanning.app is about speed – the cost/time estimation can be done in a few minutes during the first meeting with the client – architect and client can talk about expectations and place the project in reality based on many previous projects. Office design is fast-paced and Spaceplanning.app can help avoid misunderstandings while saving time and money.
Through using Spaceplanning.app clients will be assured that they're receiving a realistic estimation of schedules and costs, which align with up-to-date market standards and are based on an extensive database of previously-realized projects. This innovation offers users from all professions and backgrounds a more reliable way to communicate with clients and investors through generating simple and understandable information.
The system is easy to use and intuitive, it can be used by anyone: clients, construction companies, landlords, students, researchers and individuals from all fields to access simple information and estimations regarding their office projects.
Moreover, carbon emissions and CO2 footprint are estimated to encourage a more sustainable approach to office design. This aspect is often overlooked in office fitouts, where the carbon footprint could be a bigger issue even for existing buildings and exceeds that of the whole building due to frequent changes and upgrades of workplaces. Spaceplanning.app takes into consideration the environmental aspect and includes a calculator for construction-based CO2 emissions, in order to raise awareness and react accordingly to minimize the carbon footprint for the office design.