Shifting Ecologies: Swamps as Utopian Grounds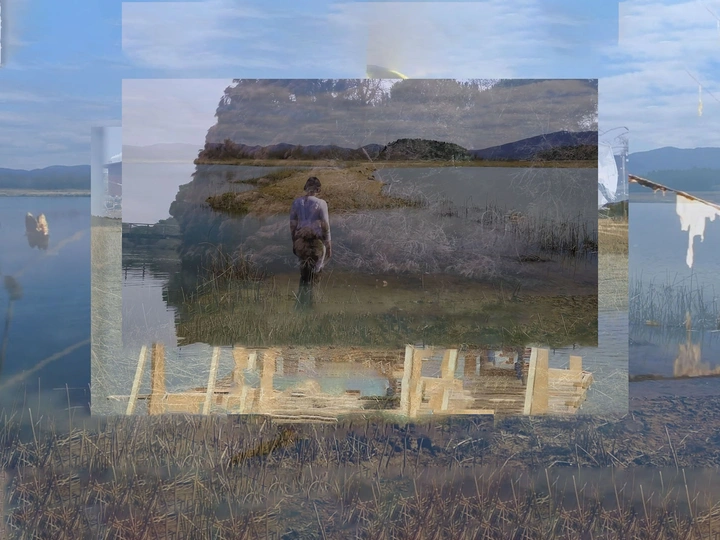 A speculative work questioning societal dynamics in the context of climate crisis, swamps become testing grounds for crafting collective narratives.
---
Eva Garibaldi & Matilde Stolfa
Rotterdam, Netherlands
Links
Team members
Eva Garibaldi
Matilde Stolfa
Field of work
Architecture, Design, Visual Art, Multimedia, Research
Project category
Raising awareness
Project submitted
2023
Eva Garibaldi and Matilde Stolfa share a common interest in the swamp as an ecology and a metaphorical space of new collective utopias and alternative space-making, originating from their own personal experiences of living with the swamp. Growing up in the swamps of Slovenia and Italy, the two practitioners met in The Netherlands, a country crafted from water. Their personal history and current home brought them together to further reflect on the future of swamps.
Eva Garibaldi is a Slovenian designer and researcher based in Rotterdam. She holds a Master of Interior Architecture: Research + Design (Cum Laude) at the Piet Zwart Institute in Rotterdam (2021). Her graduation project The Unstable Ground was a finalist for the WdKA Master Research Award. Her practice is critical and multidisciplinary, engaging with topics focusing on the climate crisis. Through her projects, she uncovers local vernacular stories to address broader issues related to ecological collapse with a focus on unstable landscapes such as swamps, river banks, and caves. Her written work has been published in several publications (Pekinpah, MIARD Piet Zwart Institute, Soapbox Journal) and presented at multiple design weeks (Milan, Eindhoven, Berlin) and BIO27.
Matilde Stolfa is an Italian architect, artist and designer based in Rotterdam. She holds a BSc in Architectural Design at Politecnico di Milano and a MA in Contextual Design at DAE. Her practice explores the constant evolution of spatial and cultural dynamics in a context of fast paced socio-economic and environmental changes. Her graduation project: Pialassa-Fragments from the Wetlands, is currently displayed within the exhibition ITALY: A New Collective Landscape at ADI Design Museum of Milan. She worked for Het Nieuwe Instituut for the exhibition Have We Met? within the 23rd Triennale of Milan UNKNOWNS UNKNOWNS and appeared as performer and guest tutor in the THIRST studio, a DAE master collaborative project in partnership with IABR.
---
Shifting Ecologies-Swamps as Utopian Grounds is a speculative design project that takes the swamp as a starting point to question ecological, spatial, societal and economic dynamics in a context of shifting and unstable realities.
Throughout history, swamps have been deemed unproductive, either reclaimed or abandoned. Many European cities (Berlin, Paris, London) were erected on swamps, imposing an urban grid as a tool of control. Neither land nor water, swamps are transitional grounds for biological and cultural diversity. They are crucial landscapes in mitigating climate change through carbon sequestration, coastal protection, and biodiversity conservation.
The swamp therefore becomes a fertile testing ground to explore collective narratives, methodologies, materials, embodied practices, and small-scale architectural experimentation, blurring binaries and dichotomies affecting our society to embrace instability and fluidity as the condition of our time. In a historical moment in which societies are facing a collapse and the climate crisis is becoming exponentially concerning, it is fundamental to question the way we dwell in space and rediscover adaptation as a tool of survival.
We develop speculative design methodologies and workshops of collective building to spark conversations and collectively weave new narratives, objects, and structures for the new climatic regime. The project employs collaborative and embodied spatial practices as research methods to address the socio-political and climate crisis by crafting new tools for participative space-making rooted in the swamp.
Exploring the dynamic nature of swamps, TEK (traditional ecological knowledge), and the symbolic nature and political role of these ecosystems, the project addresses the complex and increasingly shifting conditions of our world. Swamps once considered wastelands, become terrains of resistance and possibility.