POST DISASTER ROOFTOPS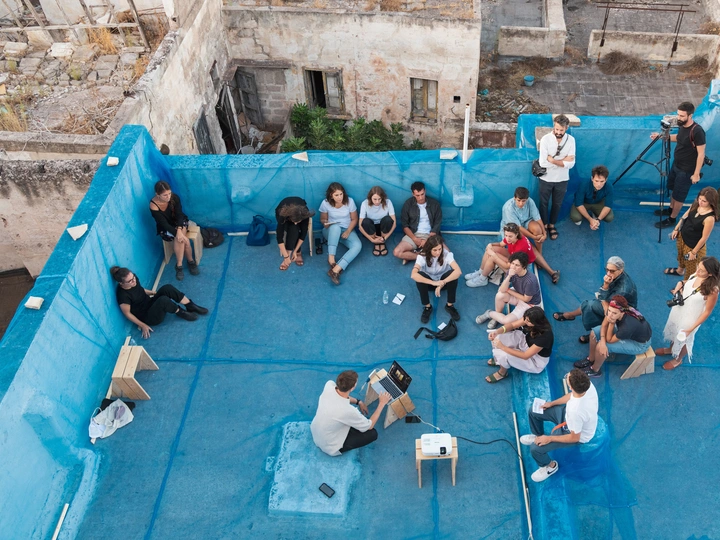 Spatial, critical and curatorial practice staged on the rooftops of the Old Town of Taranto, an industrial city in Southern Italy
---
POST DISASTER
Taranto, Italy
Links
Team members
Peppe Frisino
Grazia Mappa
Gabriella Mastrangelo
Field of work
Visual Art, Curating, Research
Project category
Raising awareness
Project submitted
2022
Post Disaster is a collective of 4 spatial and cultural practitioners with a background in architecture and social design, united by the aim of dealing with contemporary urban issues through an interdisciplinary practice involving collective research, performance, relational art and open assemblies.
Our work deals with the understanding of how global extraction-production processes affect territories and their local communities (both human and non-human ones).
---
Post Disaster Rooftops is a spatial, critical and curatorial practice staged on the rooftops of the Old Town of Taranto, an industrial city in Southern Italy that we understand as a manifesto of the inequality generated by out-of-scale infrastructures and global economies.
Rooftops are precarious spaces, in between public and private, yet they are free from the main hegemonic forms of organisation of life and capital. Climbing up onto the roofs of Taranto's Old Town provides an overview of a traumatised city. But it also offers an opportunity for healing, a privileged point of view from which to imagine and build possible futures together, starting from those buildings still standing.
Disasters are transitional events. Yet dramatic, they unveil the possibility of reimagining alternative ideal scenarios. The notion of "Post Disaster" is both a call for action and a critical answer to the 2050 capitalist narrative: this city is one of those outposts where the disaster already happened. Places where you can see with no filters all the side-effects of neo-liberal politics that are feeding disparities between territories.
In the process of opposing to heavy production through an ephemeral and critical one, we use the crisis itself as a primary source of energy.
PDR investigates pressing issues of the contemporary urban condition that are directly informed by the city's condition of crisis.
The project unfolds as a series of temporary occupations of urban spaces that we turn into performative stages. We invite thinkers, artists, researchers to put themselves in dialogue with the city in order to contribute to a collective investigation through their own practice.
Each episode deals with an urgent contemporary urban topic that is informed by the condition of the city. All the contributions are collected in an open and mixed-media online archive that is meant to grow over time.